Note: I typically posts pictures I've taken on Monday. I haven't taken any "pictorial" pictures (that tell a story) of late. But, I do plan to continue to post pictures on Monday that I've taken that I love, to show improvement in an area, for just because, or for whatever reason. You'll just have to suffer my bumbling attempts at being a photographer. Ha!

Before I show you the following pictures, you must understand that we have quilted blankets on the couches. I have two king size blankets for the larger one because the couch is too long for just one blanket. The blankets are used to protect the couches from the cats. It worked great for both Chessie and Calvin (who is no longer with us). Gracie? Ha!

Several weeks ago, Gracie started doing something that surprised both Dan and I. She started going up underneath one of the blankets and raising Cain before going to sleep. It is too funny. I do not have the heart to stop her from doing that. It can be dangerous because she is such a little thing - no one would notice she's underneath the blanket sleeping and sit on her. I almost did once. She let me know that I was too close to her for comfort by kicking me scaring me half to death!

This is amazing to me considering she does not like cat beds and prefers hard surfaces to lay on. I never dreamed she would love to be underneath a somewhat heavy blanket. Also, it is amazing to me that she is able to do this considering she is a tripod. She does have to work at it using both her head and one lone paw; but, she is one determined and stubborn kitteh.

When she kept doing this for a couple of weeks, I figured she wasn't going to quit. So, I attempted to take pictures of her under the blanket.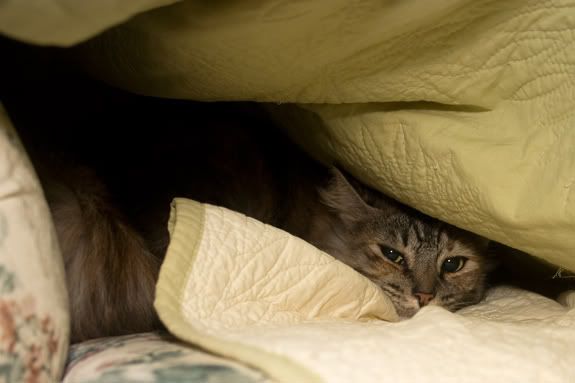 12/16/2010
Here she is somewhat wound up but is settling down. I took about a half a dozen pictures on this evening; but, couldn't quite get the picture I was looking for.
12/17/2010
I spied her doing this the next evening and grabbed my camera to snap this one. She looked so sweet. NOT! Ha! Actually, she is a very sweet little thing.
12/20/2010. Perseverance pays off!
I decided to try for the one good shot again on this night. This picture was a complete accident. The flash somehow ended up on top of the blanket instead of underneath casting a yellowish glow due to the color of the blanket itself. I absolutely love it! She's posing so sweetly, the glow of the light shining through the blanket, and the pattern of the quilting showing up.
It's amazing that accidental pictures are often the best ones! I actually learned a little bit about lighting through this picture -
always try to experiment with the flash in addition to the camera settings
.