Previously: Documentation IV

I did not document making these two blocks as well as I did with the first four blocks. I was struggling with block V and I could not be bothered with taking pictures of the process. And, I was so focused on finishing up block VI by this afternoon. I wanted to be all caught up in this quilt along. But, I do have pictures of the finished blocks.

Block 5
I am seriously disliking this block. Don't get me wrong. I am not disliking this block as a whole. In fact, I love the look of the block. I just do not like how mine turned out. I had to do some "fudging". And, I will have to do some more "fudging" to make this block work in the final quilt.
The designer of this block used every square inch of the 10" squares of fabric. As a result, this block didn't allow a whole lot of room for errors. The biggest problem is that I'm still very much a beginner - I need room for errors! Ha!
For example, I would have cut the stripes a little longer for the stripey Half Square Triangles (HSTs) in order to trim the HSTs to a nice squared up 'block'. But no, there wasn't any room for adding extra eighth or quarter inch. I did my best to sew them up nice and square. Ha! They still turned out wonky. I had to 'fudge' them to make it work in the block as a whole, which I do not like doing.
Ah well, this is as good as it'll get. If I had more fabric, I would try it again knowing what I know about making the block now.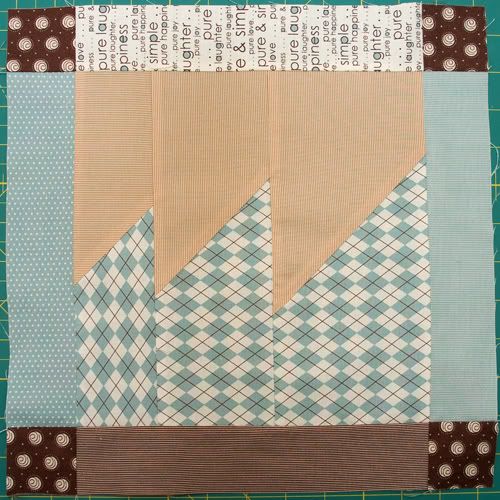 Block 6
Fortunately, this block was a lot easier to make. I deviated from the designer's block. It is exactly the same design except for the fabric arrangement/usage. I went with two layer cakes (10" squares of fabrics) to make the center. I then dug into the leftover scraps to create the border and cornerstones. It is kind of weird looking; but hey, that is me! Ha! Actually, I'm glad I had just enough of the same fabric to use for the cornerstones. Otherwise, this block would have looked too pukey for me to use in the final quilt.
There ya go! I'm all caught up! Hurray! Block 7 was posted today and I have two weeks to make that one.