WIP == Work In Progress

Note: If you are new here and wish to see my project from the very beginning, go to Maxine Fabric (The Beginning). Links are provided (embedded) in each of the WIP Maxine posts to continue on until you get to this post.

The blocks all sewn up!
The quilt in the picture seems narrower at the bottom. It's not. I am not an expert photographer and haven't yet learned how to "fix" this problem (either while taking pictures or during the editing process). Edited to add: Dan will be teaching me how to make it look more square/even both ways soon. Yay!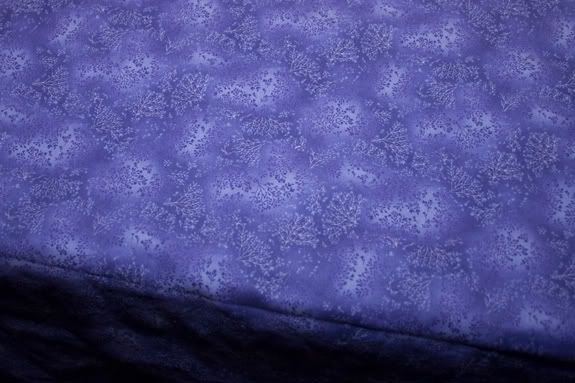 The border fabric
And yes, I know, it needs to be ironed before I cut into it. Ha!
For some odd reason, purples just don't want to show up very well in the pictures. This fabric is actually more of a purple hue than blue. Some of this fabric was used as borders in the blocks in the quilt (three of them). Can you find them?
Anyway, I've decided on cutting the fabric (for the border to frame the quilt) 4-1/2" wide. This will make the actual border width approximately 4" wide after it is all sewn up and bound. Most likely, it'll end up a tiny bit smaller than 4" because I'm not an expert at binding. But, that is okay.
Next Up:
WIP: Maxine Quilt
(11/29/10)