Back in early October, I decided to join in the Layer Cake Quilt Along 2010. They had done a Jelly Roll Sampler Quilt Along that looked like it was a blast to do. I just couldn't resist this new quilt along when it came around.

I had fallen in love with a collection of fabrics called "Pure" designed by Sweetwater for Moda some time previously; but, I had no purpose for them and never purchased any. I just couldn't pass this up for this quilt along.

So, I had a blast shopping at the Fat Quarter Shop, which is fast becoming my favorite online store for fabrics. They are very good in customer relations and excellent in fulfilling orders quickly. The toughest part I had was choosing the backing, border, accent and binding fabrics. I hope I made the right choices. We'll see.

The package arrived some time ago and I delayed opening it until recently. The instructions for the first block for the quilt along was posted on November 2nd. So, I was then ready to open the package.

Don't pay attention to the "rolled" fabrics in that back, those were extras I purchased that has nothing to do with the quilt along. :-)
The square fabric packages are the "Layer Cakes" -- forty-two 10 inch squares of fabric from a collection. I purchased an extra Layer Cake for a backup - just in case I mess up. I'm so glad I did because I did mess up! Ha!
Main fabric that made me fall in love with this line. Isn't it delicious?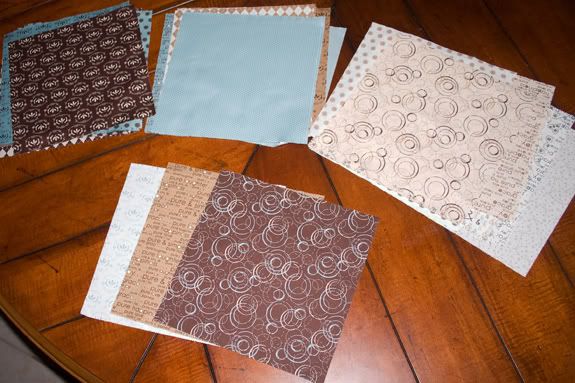 I took one of those Layer Cakes and attempted to separate them into light, medium and dark fabrics. This was tough! I'm still not sure where some of the fabrics belong. I also chose the fabrics for the first block...
I then started to cut up each square per instructions. In spite of being careful, I did mess up cutting up a section of fabric. I was pretty disgusted with myself; but, that is okay - that is what the backup Layer Cake is for!
The fabrics all cut up and the sections sewn together.
The fabric sections arranged.
At this point, we were to applique a circle onto the center square of the block. But, I couldn't decide between the dark or medium fabric. I even took pictures, one with the dark and one with the medium, to see if it would help me decide.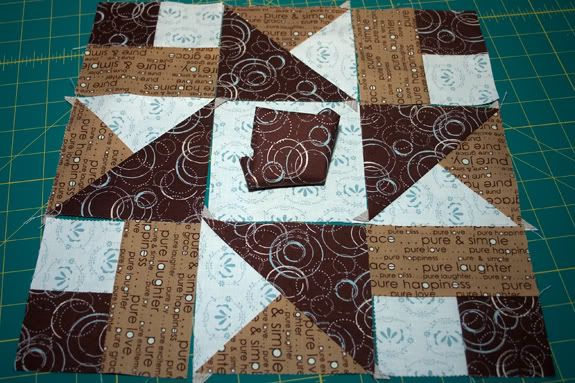 Nope, I still couldn't decide. At the moment, I am leaning towards the medium fabric. But, I kept flip-flopping. Sometimes, I liked the dark better. I'm thankful that this part was optional. I will go back and applique something in the center because I feel like it needs something in there.
My finished block
We had the choice to upload a picture to a
flickr group
established just for the sole purpose of this quilt along. I uploaded mine. So, did many others! It's awesome to see how many people are participating. And, you get comments and constructive criticism from some of the people participating. Check out that link to see all the blocks posted if you're interested. At this moment, there are 102 entries into the group.
Next Up:
Documentation II