Everything Bread

But he answered and said, It is written, Man shall not live by bread alone, but by every word that proceedeth out of the mouth of God.
Matthew 4:4
But oh, this was sooo delicious! Ha!
I saw the recipe for this bread in a
Taste of Home
magazine (Oct/Nov 2010 issue), ripped it out, and wanted to try right away.
So, I gathered all the ingredients and attempted to make the bread last Sunday. It turned out rather well for my (our) first attempt at making this. I now know not to be shy about putting the egg wash on top before baking it - just lather it on liberally - don't be afraid!
Since Thanksgiving is tomorrow for us who live in the States, I thought this was appropriate. Plus, I know a few who have been wanting to see pictures of what we made last Sunday since I posted about it on facebook.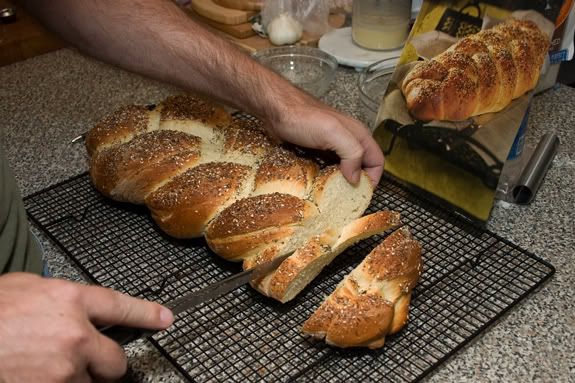 And he took bread, and gave thanks, and brake [it], and gave unto them, saying, This is my body which is given for you: this do in remembrance of me.
Luke 22:19
Let us give thanks in and for all things. It wouldn't seem like Thanksgiving without giving thanks for you! Thank you all for hanging in there with me and this silly blog.
Note: I will be "breaking bread" with some of my family and most likely will not be online again until Monday as I will be out of town. I hope you all will have a wonderful Thanksgiving! And, for those of you who don't celebrate and/or live outside the States, have a blessed weekend! In all things, be safe!