Way back in June, I received a Keepsake Quilting catalog in the mail. I happily perused the catalog even though I rarely buy anything from them. You can get tons of ideas, drool over fabrics and kits, and add a few items to your "wish list".

Doesn't everyone keep a "wish list"? I do. It's mostly for my husband to use. But, family has access to it also.

Anyway, I came upon a medley of Maxine Fabric by Robert Kaufman for sale in the catalog. When I spied the main fabric panel, I immediately knew that I had to get some to make a quilt for my Mother. She's such a Maxine freak.

At first, I tried to purchase the fabric through Keepsake Quilting online. But, they were having issues online. In case you don't know, I'm deaf. I hate using the phone and I hate bugging Dan unnecessarily to do this for me. So, seeing that I'm impatient, I went searching elsewhere online.

I used the fabshop search engine of the FabShopHop site. Much to my surprise, I found a medley that contained fat quarters of ALL the fabrics in the line along with the main panel. I ended up purchasing that instead of what Keepsake Quilting offered. Sorry Keepsake Quilting!

While waiting for the fabric to arrive in the mail, I fished for ideas from others on facebook. I got some responses back that helped me go in a certain direction. But, I still wasn't sure what to do. I needed the actual fabric on hand. The medley came in the mail around June 15th.



Arrgggg! The colors! – vibrant and bold – not exactly my Mother's preferences.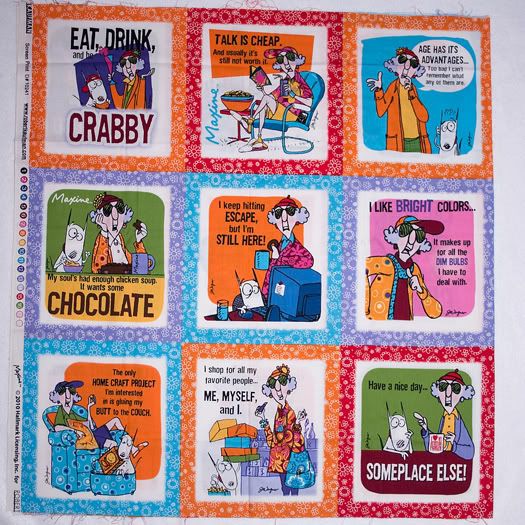 The main panel is cute and typical Maxine. But, the colors! Acckkk! What to do?

Since I was going home to Mother that weekend, I decided to put them all in a tiny clear box and take them home with me. I planned to go shopping for coordinating fabric to use with the panels. And, I hoped to meet with my sister-in-law to show her the fabric and get ideas. And yes, we managed to meet. She loved the fabric and the panel. She helped me out immensely with providing direction to which way I should go with them.

While at Mother's, I went to one of my favorite quilt shops when I lived in the area, Painted Pony 'n Quilts. I took along my box of fabrics. I roamed the store and looked. They have tons of fabrics to peruse. It's almost mind boggling. But, you almost always find fabric that will work perfectly.

I was looking for fabric that was deeper and more muted than the colors of the actual medley and panels. It was a tough assignment for me. I was beginning to despair of finding any until near the end. I found a line of fabric that was gorgeous and had a range of colors that was awesome. I had fun picking out and matching fabrics for the medley.

I would take a bolt, lay it on the floor, place the panel on top of the bolt and then stand back to see if it worked. If it did, I would randomly place fat quarters on them to see if it coordinated well with most. I did this one at a time until I obtained six coordinating fabrics. I then put all the bolts together and placed the panel on top.



This picture was taken with my camera phone and I sent it to my sister in law with a caption along the lines of "Shopping for Fabric is Hard Work". It's not a very good picture; but, what do you expect of a phone camera?

Anyway, I also randomly placed fat quarters from the medley on top. In the end, was very pleased with the selection. I ended up buying a yard of each with the exception of the "purple" (2nd from top), which I bought 2 yards. I figured that any leftover fabric could become a part of my fabric stash. They read as "solids" which is perfect for many situations.

When I got home, I had to do this all over again just to see all the fabrics together again.



What do you think? I wish I could get the colors in the picture 100% right; but, the lighting is tricky. The colors are fairly accurate though.

Next up: Creation of a Design Wall