[Note: I do not know what to call Tuesdays. Sometimes, it is fabric and/or sewing related and other times, it is crafting. And, for the first time today, it is DIY projects. If you have any suggestions as to what I can call Tuesdays, please let me know. Thanks!]

We stopped in Comfort (Texas) on the way home Sunday. We shopped in an antique store, had lunch in a nice little café, and shopped more antique stores. I enjoyed myself immensely. I think Dan did too looking at all the old tools and junk.


We Specialize in Stuff
This sign made me laugh!
And, this sign was in the storefront window. Too funny!
We wandered inside and looked around at all the 'stuff'.
Closed Viewpoint
I discovered this beat up old desk. It appeared to be the right height for what I was looking for (to use as a nightstand). I loved the look of the whole piece of furniture. The opening where a chair would normally go would be a perfect spot for a cat bed.
It is just a beat up old rinky dinky desk with no value whatsoever. When I discovered the price of the item, I knew we had to have it because it was a bargain! No, a steal!
And yes, my cats had to check it out.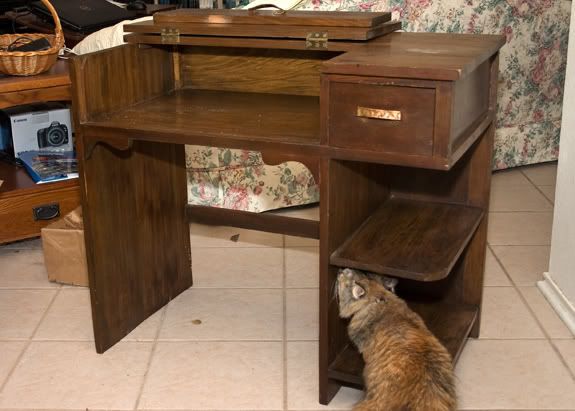 Open Viewpoint
It is the cutest little thing and looks like it was put together by a very good amateur woodworker. It is obviously very much used. I wonder what memories it contains within the wood. I will never know.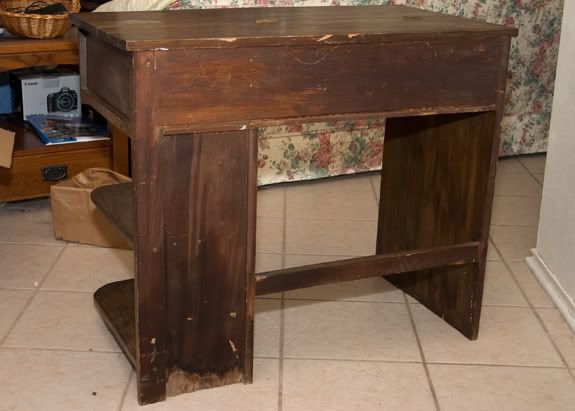 Back View
We are planning to literally take it apart, replace the backing, sand and stain it, and put it all back together again. If we discover that it is not stainable, then we will paint it a dark color. Not black. I dislike black.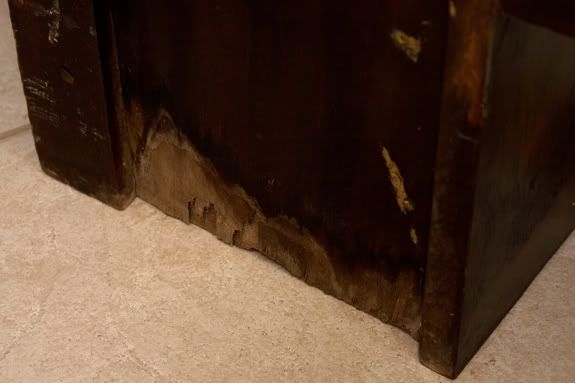 This is the reason why we are replacing the backing. It suffered major damage.
I am documenting what the desk looks like before we tear it apart this coming weekend. And, we may need pictures to refer back to just in case we cannot remember how it was put together. I hope not; but, it will not hurt to have these pictures.
Side View
Top: Water and Ink(?) Damage
Closeup of Open Desk with Drawer
That reminds me, we will be replacing the drawer handles (or pulls) as I hate them.
I am excited because I finally found something that will work as a nightstand. I am also scared that we will destroy the thing in the process. If we do, we will not despair. After all, it was only $38.50.