Maxine Fabric (The Beginning)
Design Wall
WIP: Maxine Quilt (9/21/2010)

As part of the "One Thing Challenge, One Week", my
goal
was to at least finish cutting the coordinating fabrics for the Maxine quilt and arrange the blocks together. Well, I did that and more.
I not only got them all cut and arranged, I also got the top three rows sewn together.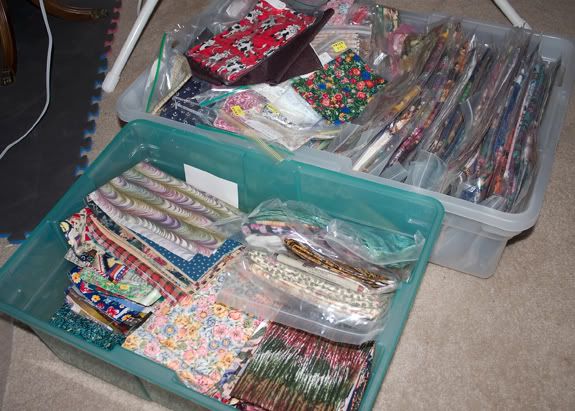 I also dug out my scraps that I've set aside to sell or give away.
And, started cutting out 2.5 inch squares. I am just grabbing fabric and cutting them. I don't really care about colors and whatnot. Although, I do hope to find some really dark fabrics and some lighter purples. I have
tons
more squares to cut. So, I'm sure I'll find some. If I don't, that is fine. I'm sure they will be some lighter color in one scheme (blue, purple, gray, whatever). And, I'll figure out what to do for the dark fabrics.
Next Up:
WIP:Maxine Quilt (11/16/2010)