We signed up eons ago to take a free entry level fly fishing course on September 18th at the Sea Center, Texas which is located in Lake Jackson and was put together by the Texas Parks and Wildlife department (TPWD).

I was both excited and nervous. I decided that I was going to be the photographer for the event as it was mostly for Dan. I was afraid that the stormy weather would spoil our time; but, it didn't. And, I did enjoy myself immensely in spite of myself.

There were approximately thirty people who signed up. They had at least five teachers/helpers and split the class up into groups of ten. We ended up in group A. Our group began with learning how to tie flies.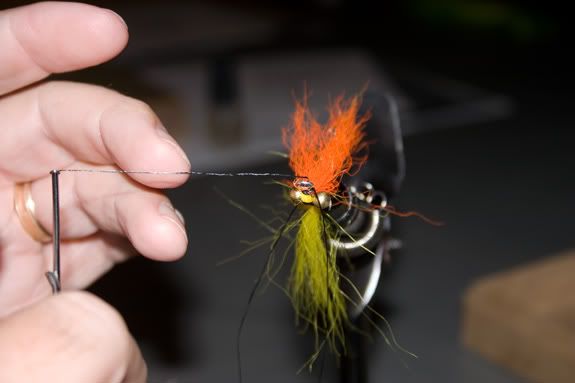 Don't you worry none. I made one too. Although, mine wasn't as good.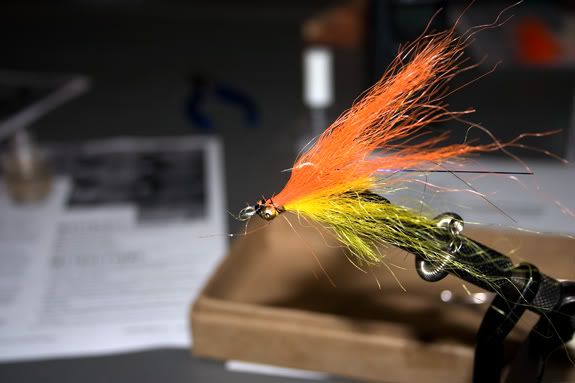 (My Fly}



This is all the supplies one needs to make the fly ties in addition to a pair of pliers and the thing to hold the hook. By the way, that is my fly all trimmed up.


This guy taught the class. He was a character and a very good patient teacher.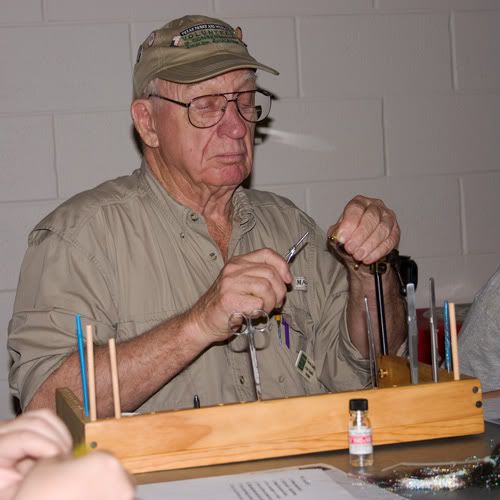 And this guy, he came in at the tail end of the class and started whipping up flies in mere minutes. He was nice enough to give a kid and us one. I was thrilled. I immediately claimed it as my own. Ha!
I don't know why; but, I really liked him. He reminded me somewhat of my Dad. And, he was hard of hearing like most old men are. Ha! He was a kind and happy soul.
This is the fly he made and gave to us. It looks so much like a damselfly to me. It is just too cute. Yes, I know. I'm silly.
And then, we all switched. We went to learn how to cast. Since it was storming outside, we had to do it indoors.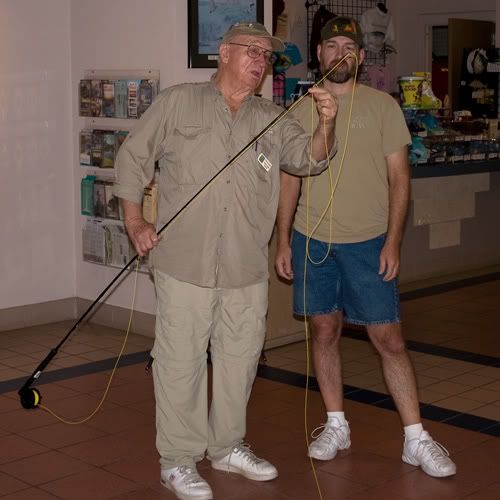 They split our group into 3 or 4 people each. That kindly old man was our teacher.
Don't you worry none, I got to cast too.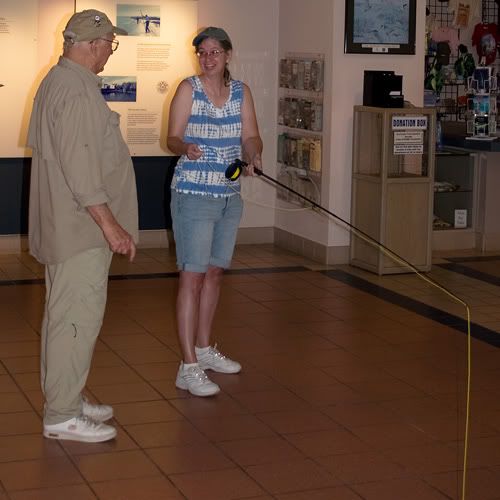 I felt awfully silly doing it as it is evident by the goofy and excited look on my face.
We all relaxed and chatted while waiting for the next session to begin. I also explored Sea Center and took a few pictures. They have a cool little section where children (and adults) could view and touch critters that are in the sea.
Blue Crab
Don't worry about getting pinched. They took off the top pincher part of the claw so that they could not harm anyone.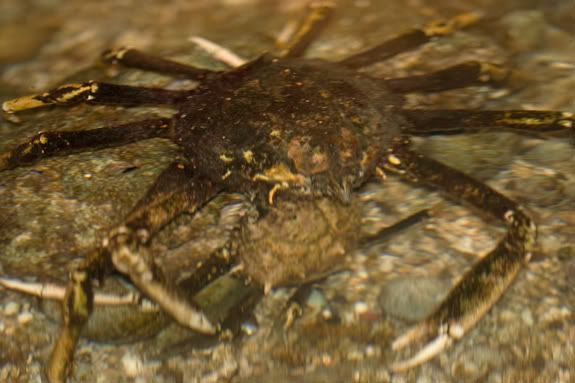 A weird
Spider crab
to touch.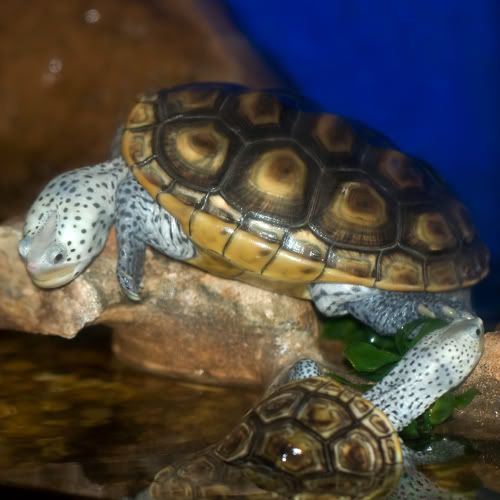 These strange looking turtles were in a tank of their own.
And then, it was time to take a tour of the facility. The tour was interesting and informative. I didn't take any pictures of this part as I didn't feel very comfortable doing that.
And then, we all broke for lunch. Amazingly enough, the weather cleared off by the end of lunch break. So, we all rushed to get a little fishing time in before it started raining again. By the way, the rod and reel was provided by the course.
"I don't know what the heck I'm doing"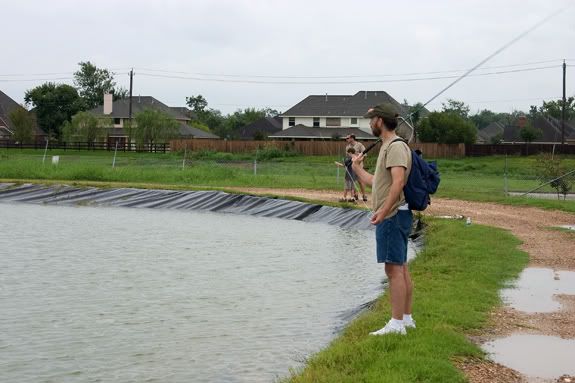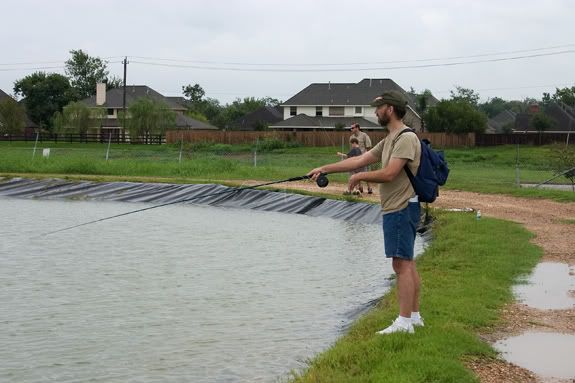 Not a bad series of shots considering the yukky weather and all that. It was sprinkling; so, I didn't dare keep my camera out. And, don't you worry none. I got in some fishing too.
Speaking of which, I was just fishing to get the feel for casting. I never expected to get a bite. Well, I did and I immediately panicked. I screamed and cried for help. Ha! Dan put down his rod and came over. I immediately placed the rod in his hands. But, because I let the line go slack a little during the transfer, we lost him. I have to confess that I was relieved that we lost the "monster" as I didn't really want to deal with it. Ha!
I pretty much quit casting after that and watched the people including my Dan. He got to be pretty good at casting! Remember the first teacher I mentioned? Well, he came over and explained the process a little and at one point, I saw Dan's face light up because he got it (understood).
And then, it started to rain again; so, we went inside. There were a few determined stragglers out there that got soaked to the bone. But, they didn't care. Due to the rain and changes in the schedule, the rules and ethics part of the course was dropped.
And, then there was a drawing for prizes. These prizes were donated to the course free and clear by several companies. The first drawing was for a rod and reel and amazingly, Dan won! I was absolutely thrilled.
Dan's new rod and reel that he won.
We need to go fly fishing soon. I would love to just go and take pictures and let Dan do the fishing.