What some of you may not know is that I love to be in the water. It does not really matter if it is the pool, beach, water park, river, etc., and etc. as long as it is water and safe to swim.



On June 23rd and August 4th, we went to Schlitterbahn in New Braunfels, Texas. We had landed some discount tickets through Dan's company. Because I like this water park so much, we are considering getting season passes next year; but, it will take three visits to break even and four or more to make it our worthwhile. So, I don't know what we will do especially since we are going camping at Garner State Park next year too. I pray that this severe year-long drought breaks long before we go camping!



I have a Vivitar digital waterproof camera that I bought on an extreme clearance sale late last summer. It's not the best camera; but, it serves its purpose. I took some pictures. However, I neglected to put a SD card inside; so, I was only able to get a few pictures because the internal memory rapidly filled up. I was mighty disgusted with myself. Oh well, such is life!



There is a new ride, called The Falls that is supposedly the world's longest waterpark ride. We rode it TWICE. Once on individual tubes and once on a double tube.



I have to say it is rather cool. It is kind of like tubing down the Frio River at Garner with some rapids and falls with the exception of not having to get out and walk from time to time because the river happens to be low.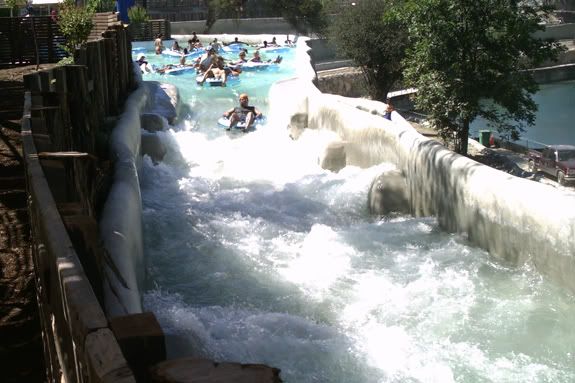 There is one section when I first went on this ride that made me slightly fearful. It had a short steep drop (not the one pictured above). We had just shot out of fast rapids on a curve. It was perfect for me because my tube practically went straight to the first falls. I was laughing and then suddenly shouted "Hallelujah" when I spied the drop. It made the lifeguard standing in the water laugh. And, before I knew it, I was sucked down the falls and boy howdy, what a brief adrenalin rush!



As you can barely see, I was enjoying myself. Immensely.

The only negative thing I would say about the ride is the bottleneck that occurs at the bottom where we all wait to sucked/placed onto the ramp that takes us back up to the top (or beginning) of the ride. Dan wanted to get out before this bottleneck the second time we rode the ride. However, I refused to get out. The positive is that we do not have to get out of this ride unless we are ready to get out. I would always want to get out at the original Schlitterbahn part of the park simply because I do not want to walk! Ha! (The original Schlitterbahn is my favorite section of this park.)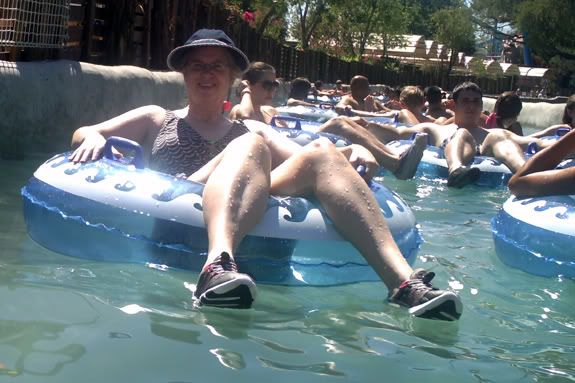 This park is expensive; but, it makes me a happy girl.

The entrance fee is all the money you really need to spend. It is family friendly. All tubes are free and provided for by the park. And, you do not need to carry the tubes from ride to ride.

You can bring your own life jackets for your children. Life jackets are provided for free within the park; but, I would recommend bringing your own.

You can also take your own food to cut costs. Yes, you are allowed to bring your own food/coolers inside the park. I believe the only restriction is that no glass is allowed. Isn't this great? The prices of food and drinks inside the park is exorbitant. But, what do you expect? Most parks are overpriced. So, pack a picnic lunch, snacks and leave it somewhere within the park. There seems to be an enormous amount of respect for other people's property within the park itself.

If you take valuables inside, I would recommend you rent a locker to store those in. It's $9 for the whole day; but, you get $2 back when you return the key.