I have been following this blog, In Jennie's Kitchen, for some time now. Jennie does not know me nor I her. I just am a follower of her blog along with many other foodie bloggers.

When she posted for Mikey, it made me cry. It was shocking. To think her husband died so young. I had my suspicions when she posted One Last Dance the day before; but, the post, for Mikey, confirmed my suspicions. I discovered via other bloggers he died from a massive heart attack.

Within that post, She asked bloggy land to "make a peanut butter pie this Friday and share it with someone you love. Then hug them like there's no tomorrow because today is the only guarantee we can count on". The Peanut Butter Pie was Mikey's favorite.

I am not one of those people who jump on the bandwagon. For example, there are many quilters doing a Farmer's wife quilt. I love seeing their (the bloggers) blocks and progress; but, I am not inclined to join in the madness. I suppose I like doing my own thing.

However, in this case, Jennie's right you know? I thought about it and I wondered why we put off making a pie or a cake for the one you love until a birthday or a special occasion? Why not make it when we feel like having some? Or, whenever we have the time to make one? Or, whenever we want to do something special for someone we love? Or, whenever we want to try a new recipe? After all, every day is a special occasion.


So, I decided to make a German Chocolate Snack cake on Saturday. I like baking and cooking on the weekends. Weekdays are tough for me. So, instead of making pie on Friday, I made cake on Saturday. This cake is one Dan mentioned that looked and sounded delicious. He loves German Chocolate cake and I thought, after reading Jennie's post, why not try making it now instead of waiting for a special occasion?
The cake itself turned out very delicious. However, we were not a fan of the "frosting". The cake part is a keeper. I just need to find a different German Chocolate frosting to put on top. In fact, we ended up scraping off the frosting the next day and making an old standby to put on top. Ha! I still would like to find a really delicious German Chocolate Frosting recipe someday.
Below are a few wonderful pictures taken during the process of making this recipe. I hope you foodie addicts (like me) enjoy them. Note: All pictures, with the exception of the very first one above, were taken by Dan who turned the kitchen into a photography studio. We had a lot of fun. At least, I did.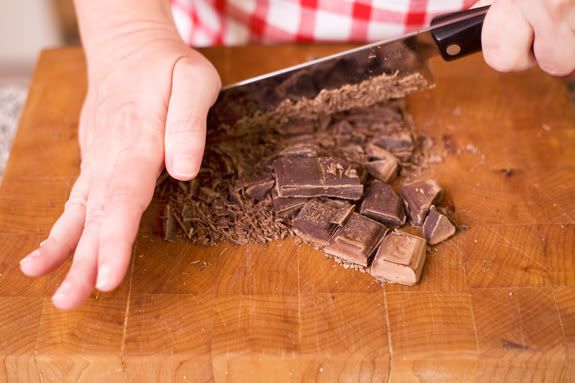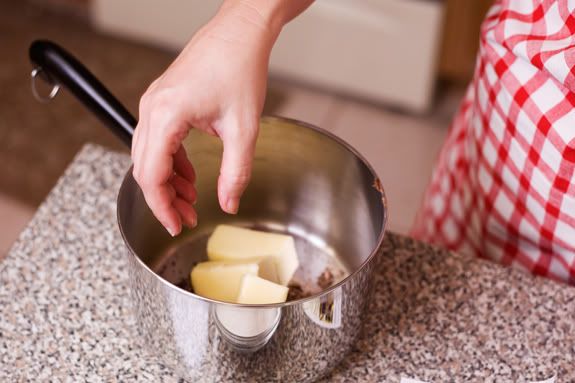 Melt 1 package (4 oz) of German Sweet Chocolate and 1/4 cup of butter in a saucepan over medium-low heat. Then cool for five minutes.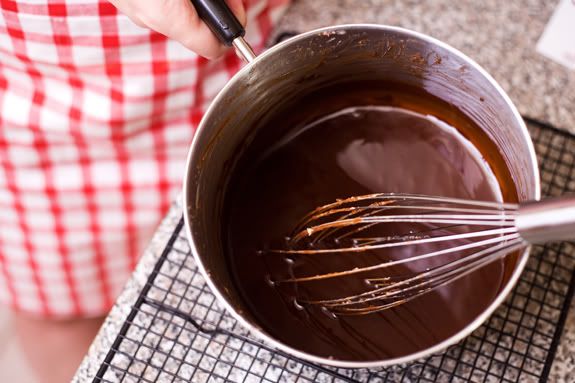 You'll need to blend in 1 1/2 cups of granulated sugar and 1 teaspoon of vanilla extract (after it is cooled).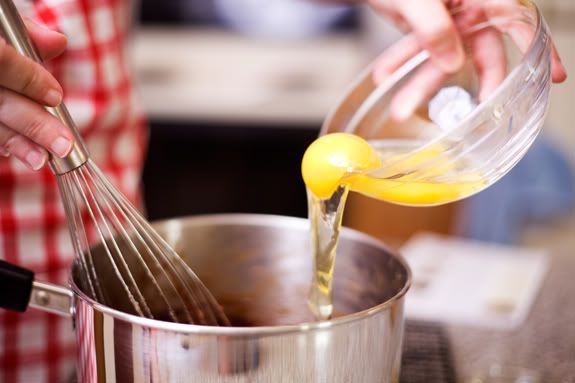 Add 3 large eggs and 1 cup of Buttermilk.


Combine 2 cups all-purpose flour (I used unbleached), 1 teaspoon of baking soda and 1/4 teaspoon of salt. Add the mixture gradually to the pot stirring until smooth.


Pour batter into a prepared pan (spray with nonstick cooking spray). Bake for 40-45 minutes in a 350*F oven.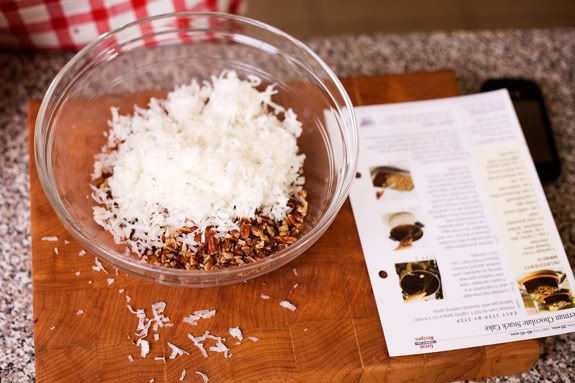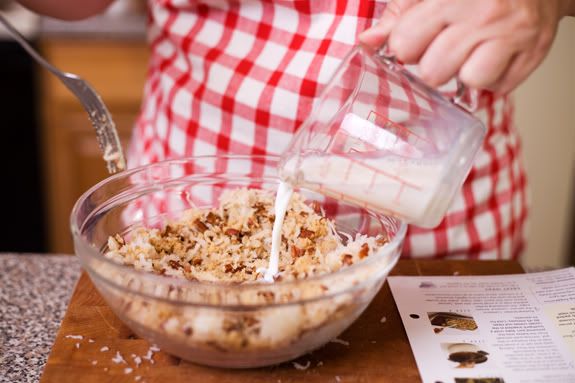 I'm not going to bother listing ingredients nor how to put together the topping/frosting as we did not care for it. I believe there are some better recipes out there for this part of the cake.
The below is not really part of the above series; but, you can see we really did scrape off the frosting and put on an old standby. It does not look very appetizing, does it? Ha! But, it is delicious cake.