The inspiration for these ornaments comes from seeing Felted Wool Acorns found around the interwebs. I adore them; but, 1) I cannot afford to buy them and 2) I cannot make them because I'm slightly allergic to wool. I also remembered my childhood and how we used to make ornaments out of walnut shells.

We saw some Bur Oak Acorns one day. Let me tell you, these suckers are huge. I have never seen large acorns like these before (until now). I knew immediately what I could do with a few. So, I decided to grab three of the nicest ones I could find.


I cleaned the acorns as best as I could and separated the caps from the nuts. One of them was still attached. The other two I matched the caps to the nut as best as I could when we found them.

I grabbed some primer, some old spray paint that I have stashed, and fishing line stolen from Dan's fishing rod. Ha! I then primed the acorns and painted them.

Let me tell you, if you have any old spray paint around, throw it away! Holy Moly, what a mess that made. From now on, I'm sticking with regular paint in a can.

I didn't have any true red paint in my stash. Now, that was weird. I must not like the color red all that much. Ha! So anyway, I spent approximately $3 for some sample paint called "candy apple".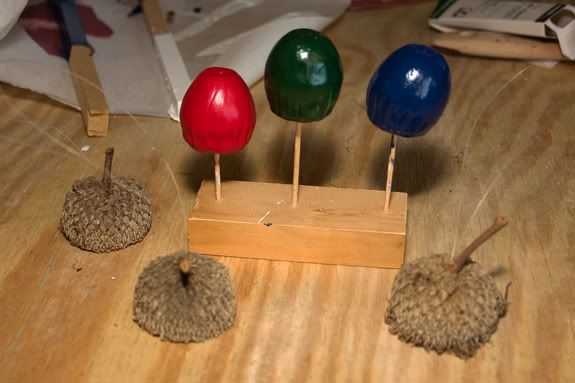 Dan drilled a hole in both the tops of the nut and in the caps. The hole in the nut was to help make painting them easier. I cut three six inch pieces of fishing line, looped them and tied a knot at the ends. I threaded them through the acorn caps.

After the nuts were dried, we glued them. Let me tell you, that was fun. NOT! We first tried an Epoxy that was a complete flop. It just would not hold or bond. So, Dan got out some construction adhesive from his stash and we used that. Finally! They were stuck together for good.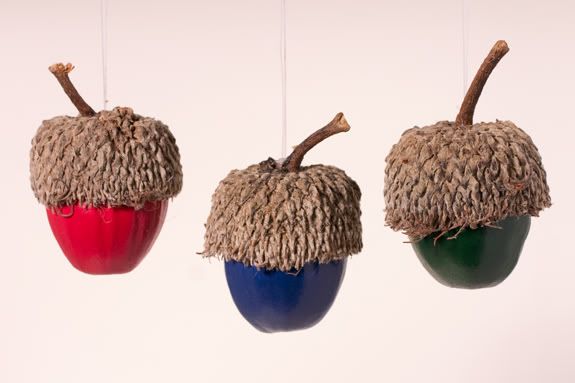 We sprayed them with a couple coats of Polycrylic. I love how they turned out.