It has been awhile since I posted anything on the progress in my room. I just have not felt like posting about it of late. We are basically finished and have only a few minor project left. I am still organizing and moving in stuff. I could start crafting and sewing now; but, I fear that if I start doing that before finishing the moving and/or organization, I will never get done.
This picture was taken way back in January. In fact, it was on Dan's birthday. These are my beading and storage cabinets that we found at a Moving (Garage) Sale and they were finally hung up. We had a hard time finding the right tool to rent to put these up on the wall; but, we finally found a place that rents them in Converse, Texas. I am pleased with how the cabinets turned out.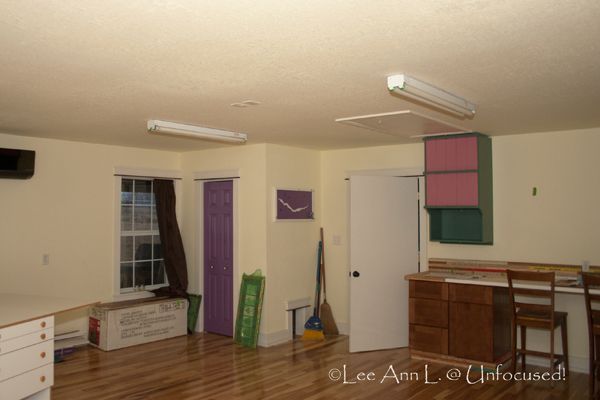 This is a "before" image of the lighting situation. Also taken in January.
The "after" image! I love how these look in the studio. We added two more lights to the original two. And oh, we also added a light in the "closet".
By the way, only one closet in the entire house has a light and that is in our master bedroom closet. It annoys me. I decided that this closet should have at least a cheap light to see in the dark! I am so glad I made that decision. I am wanting to add lights to the hall closets (at the very least); but, I do not know how to go about doing this yet.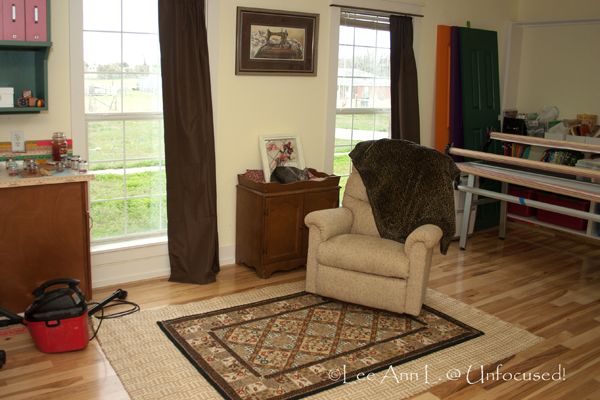 We cleared out the guest room to get it ready for work to be done in there April 1st (today). We are hoping the room will be ready for guest(s) to sleep in soon. It will not be finished; but, at least, people will have beds to sleep upon.
Anyway, we found some rugs buried in the guest room that came from our Houston house over seven years ago. I had forgotten that we had them. I immediately thought they would be the perfect size in my studio for a spot I had in mind. Sure 'nuff, they are almost perfect! Even the coloring seems right for the space. So, I do not have to get anything for this little spot in the studio. I love repurposing things. It is also nice to have something besides the major furniture from our Houston house in this current home of ours.
I purchased the chair a little while later at an extreme discount due to the fact it was discontinued, a floor model and the last one they had. I did not know this until I chose the chair after trying out a kajillion of them. It was very comfortable, smaller in size and felt perfect for (to) me. I thought it would be perfect for the little sitting area. It does seem to fit perfectly in the space.
Dan was the first to use the chair. He used the chair Monday watching TV (which is set above my desk) while I puttered about making some more drawer dividers (organizers) out of yardsticks.
There is only one problem with the little sitting area. When I finally got the area situated (set up) and sat down in the chair to test the space out, I immediately thought of Mother. Do I really need something that 'channels' my mother?!? For some odd reason, this little spot reminded me of her. It made me feel so sad and at that same time, I am glad I have the nice little "visiting" area in my studio.