I almost did not do this because I was missing Chessie from last year. But, life goes on, correct? So, I just quickly snapped pictures. These are snapshot quality as I did not take the time to set it all up properly nor did I have the inclination to do it all correctly. But, I like how they turned out.
By the way, both were shot on March 27, 2015.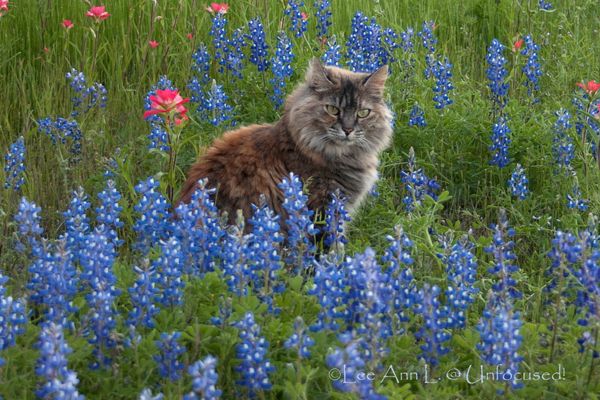 Gracie (seven years old)
Abby Gail (almost two years old)
Note: I like the hint of the Indian Paintbrushes which reflects the reality of what is what on our land this year. (We have quite a few more of them this year.)
Note II: Someone asked in the past what the thing was on Abby Gail. For those who wish to know - it is a walking vest. It is lightweight and washable. She wears one because it is easier for me to keep up with her and honestly, she does not mind. She will most likely wear one for the rest of her life whenever she goes outdoors. And yes, she goes for walks with the leash.
By the way, this harness used to belong to Gracie who used it for approximately a year until she learned to go straight for the back door whenever she panicked, learned her boundaries and became responsive to me 85% of the time. You can see Gracie wearing the same harness on this blog post (second picture).