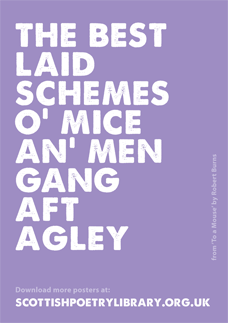 Source (free downloadable printable poster)
{The best laid schemes of mice and men
Often go awry}
Not much happened since my last
Thursday's post
. We had our plans and in spite of the fact I was not feeling quite myself, we were raring to go. We picked up the jackhammer first thing Saturday morning. And then, we picked up the flooring. This is when we encountered our first problem. The store did not have all the flooring. They made an error and did not subtract flooring they used in their showroom. Can we say
OOPS
?
As a consolation, they gave us the almost full box of flooring they had opened free. They told us another shipment was coming in the following week and we can pick up the last box when it arrives at the store. It did not really matter at this time as we were not planning to put down the flooring right away. We just wanted to get it acclimated in the house.
Dan and another man (the employee) loaded the truck.
Boy, was it loaded! However, the truck handled the load very well.
We arrived at the house and had our lunch. We then did a few things such as scrape the glue from the carpet we pulled up in a bedroom, cleared the tile from the hallways (and closets) and pull up some baseboards. By this time, we were frustrated because the dumpster Dan had ordered has not yet arrived.
Dan decided to tackle the
thinset
only to discover that the jackhammer we rented was
jacked
! Needless to say, we were not pleased; and by this time, it was too late to return it to the store as they were closed.
We decided to unload the flooring from the truck (which was fun), pull up all the baseboards from the hallway, closets and the living room. During the work of pulling up baseboards, my weird sense of not feeling myself turned into a migraine. Every time I tried to do some work, I got light-headed and sick. I was upset with myself and frustrated because I was essentially useless.
By the time 5:30pm rolled around, the dumpster still has not arrived. Dan had called the company a couple hours earlier and left a message that essentially stated that "if the dumpster is not on its way, cancel the order and we will find another company that is more reliable".
Since we could not do much more in the house, we decided to call it a day, pack and head on home. At this point, we were very disappointed and frustrated.
We talked about the dumpster issue. There is another company; but, it is more expensive. We decided to just hold off getting a dumpster until we are ready to tackle the garage conversion. By doing this, we will only need to get a dumpster one time and we will save money in the process. I also think that it will force us to do the garage conversion after we move in. You know how projects can be delayed once moved in? Well, I do not want this to happen.
So, instead of a dumpster, all the broken tile, the pulled up carpets and other trash will be going into the garage. We will need to put up a temporary wall to keep the cats safe and out of the "garbage" when we move in. (Their litter boxes will be located in the garage.) Once we made these plans and set them in stone, we felt loads better in spite of knowing we will not meet our personal deadline of July 31st to be moved in.
By the way, we returned that jacked up jackhammer first thing Sunday morning and demanded a refund. The store clerk was extremely reluctant to do this; but, he eventually gave us the refund. I told them to be prepared for us to thoroughly check out the next jackhammer we rent. This was a lesson learned for us both. Do not always trust that the tools will be in working condition. Gah!
We also shopped at nearby Lowe's for paint chips (to paint the front door) and baseboards. Yes, we are going to replace the baseboards as we do not like the existing ones in the house. We decided to get plain whiteboards and go from there because it was cheapest.
Dan picked up the missing flooring last Tuesday night. I think we are more or less ready to do more work at the house. I'm hoping this weekend will be a lot more successful than the last!
In the meantime, I/we have been packing. I have come up with a nice system since we are reusing the boxes from a previous move. If I had left it alone, it would have been a chaotic mess. I will need to see if I can blog about the 'tip' soon. There has not been much time for much of anything else in my life. Ha!
We did not do much of anything for the
4th of July
, which is a holiday here in the states. We did some packing in the morning. And then, because both of us was wanting to do something else, we decided to go out roaming. We ended up at to
Sears
to look at a particular riding lawn mower. We also browsed the appliances and then roamed the mall. On the way out, I said "goodbye dreams" to the appliances making Dan chuckle. We also went to
Baskin Robbins
and had some ice cream, which is a rare treat for us both.
Source
Dan remembered late last night that I had bought some
Pop-Its
. So, I had fun throwing them to the ground in the backyard. There were times I made Dan laugh which made me laugh. We teased Gracie by throwing several near the glass door. She would jump a little every single time and then just stare at the place where it made the noise. I think she was more attracted to the flash of light. I am not sure what goes on inside that tiny little head of hers; but, she certainly is a strange unusual cat.
Until next Thursday, Piece,