I have been negligent about taking pictures of our DIY or remodeling efforts around the house. My pictures show the lack of effort. But hey! At least, I took some!
11/2/2014
We bought two old cabinets from Habitat for Humanity Restore for $15 and $30. We first cleaned them up sanded them down. The wind was too much on this day to start spray painting.
11/4/2014
I went shopping for new knobs for the cabinets. The bottom color on the paint chip is actually on the pantry walls! The small orange-yellow is the color of the "new" laundry room and the gray is the cabinetry color! That pig was actually a knob I adored; but, I did not buy the item. (Picture was taken with my phone at the store.)
11/12/2014
Dan was in between projects and wanted something to do. So, I suggested dismantling the one lone shelf and start painting the laundry room… It is more like a closet than a room. But hey! It works for us.
12/3/2014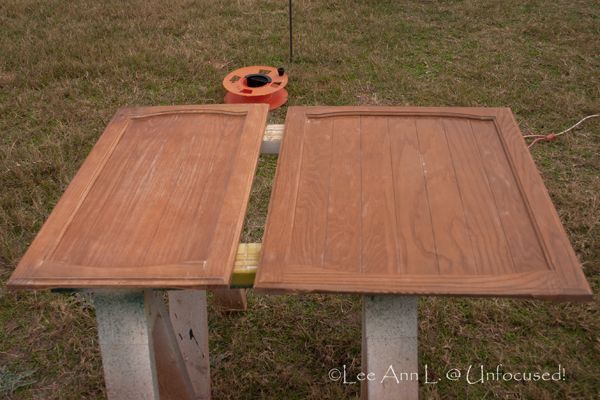 12/3/2014
Prepping and setting up to paint…
12/3/2014
12/3/2014
I was worried when the clouds started rolling in. The cabinetry was almost dried when we decided to take them inside. It's a good thing we did because it started to "spit" rain during the process of moving them indoors.
12/22/2014
Cabinets hung up. Almost done!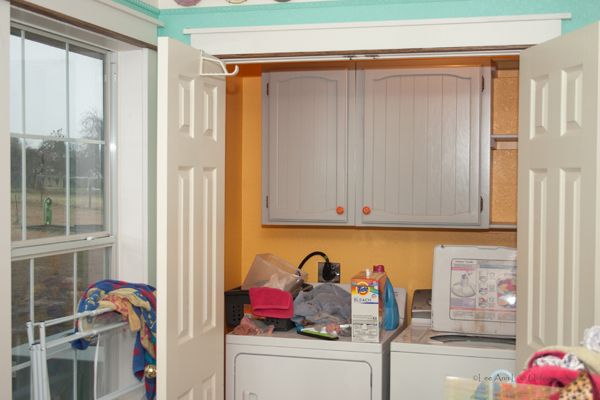 12/31/2014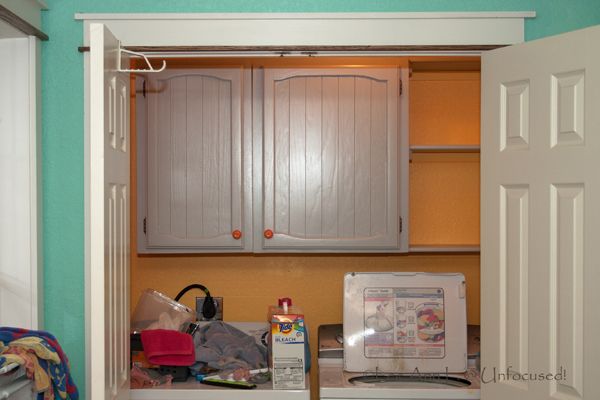 12/31/2014
12/31/2014
Shelves put in! The Laundry Room is finito! I am extremely happy with the changes. It is more functional and have tons of storage now! The empty space to the left of the cabinets is space to hang things. And yes, I do have stuff that is better off hung.
All in all, we estimated the cost of this remodel to be between 60 and 65 dollars (USD). The cabinets were $45. We bought paint and new knobs. The rest of the supplies were reused such as the shelf and ledge we pulled out of the laundry room and screws we had in our leftover stockpile from previous projects.
The only thing we might do later is change out the lighting. I want white or more natural lighting instead of the ugly yellow one.