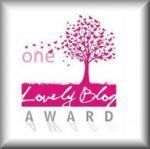 The Orchestra Director's Wife
has nominated me for the "One Lovely Blog" award. This lovely lady writes from the heart about her life, thoughts and her beloved chickens. I am deeply touched that she thinks my blog is worthy of a nomination. Thank you The Orchestra Director's Wife!
My life has been a chaotic mess lately resulting from a recent move to the "boonies". However, I intentionally make time for taking daily pictures. There is just something about taking a break and looking for inspiration in daily life and being out there in "nature" that helps me relax. Macro photography is a passion of mine. However, I am attempting to do other types of photography at the suggestion of a friend. I am hoping to get a zoom lens in the near future to expand my horizons.
Before I go on, I need to let you all that there were some rules in receiving this nomination. Here they are:
Thank your nominator

Add the badge to your site

Share seven things about yourself

Pass on the award to 15 nominees

Inform the nominees by commenting on their wall
Now, I have to let you all know that I am a rule breaker. I have never been a fan of these types of things due to a variety of reasons which I will not mention here. However, I thought this would be a fun "exercise" to do. So, I will just list things about myself, list a few blogs I read and let all the other rules go (with the exception of thanking my nominator!).
Seven Things about Myself
I had written a list of 100 things about me and posted that on facebook years ago. However, I think the list would be mighty overwhelming for you all to see. So, I will just stick to seven things.
I am Christian – broken, fallen and imperfect – a believer in Christ and saved by Grace.
I was once a professional programmer (nine years). I actually loved the challenge of programming; but, I disliked the rat race.
I played the piano early in life (first through fifth grade) and then the bass clarinet in both junior and high school (along with one semester of college in '83). I have not picked up an instrument since then. Although, I may be learning how to play the mandolin in the future.
I love to play Cribbage (a board game); but, it is rare that I get to play the game these days.
I worked as a housekeeper for a hotel in the eighties (while attending college).
I have a phobia of flying. In fact, I get panic attacks before I even get onto the plane. In spite of this fact, I have been outside the continental US (England, Wales, Puerto Rico, the Bahamas & Canada) when I was younger. The older I got, the less I could tolerate the panic attacks and what it did to my body. I have not flown since my oldest niece's wedding when I did way too much flying in one short week. If I am not mistaken, that was about twelve years ago. I am not sure what I will do if I must fly once again – pray and hope to die? Ha!
I am non-traditional. In other words, I dislike diamonds and roses (a girl that dislikes diamonds and roses? How can that be? Ha). I prefer stones such as opals, sapphires, etc. and wildflowers. I would have eloped because I did not want the traditional wedding and all the stuff. However, I knew eloping would have hurt Mother. So, I went through a traditional wedding. It was my gift to her just like walking across the stage when I finally graduated from college was my gift to Dad. The things we may not like to do can be thought of as gifts to others.
Some Examples of Blogs I Follow
I have a wide range of interests. Besides my family members' and friends' blogs, I follow:
THE END.

Not really. I will be posting again soon.

Piece,