Note: This is formerly known as Fabric / Quilty / Crafty / DIY Tuesday. I've changed it to "Tuesday's State of Affairs" until I can come up with a better generic title. Any suggestions?
First of all, I just have to give a shout out to
I have a Notion
store. I bought a very small item from this store for the first time not long ago. I received the item along with a refund on shipping! Needless to say, I was immensely impressed. Most businesses would have just kept the change. But, not
Kelly
! By the way, Kelly has a wonderful
blog
that I follow which often gives demonstrations and tutorials including items in the quilting world.
Now, let us move on to the state of affairs in my fabric, quilting, and sewing world. One item I have on my
Finished Year List
is to "finish organizing my fabrics onto "bolts" – 2 or 3 a day should get me there eventually". Well, I have been consistently organizing my fabrics onto 'bolts' every day. I have been doing at least six most days. This is what I have done so far: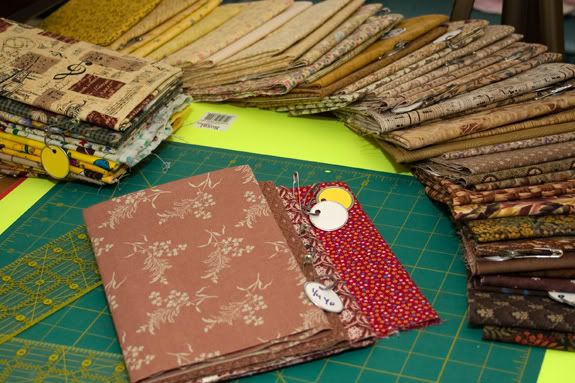 Fat Quarters and Quarter yardages. Note: the ones with the key tags are quarter yardages.
Half Yardages and One Yardages (or more). Note: the Half Yardages are on your left and the other is on the right.
So far, I've been organizing the fabrics by blenders and novelties. The categories may expand as I get more fabrics onto 'bolts'.
So, what have I been doing sewing-wise? Sad to say, the
Layer Cake Quilt (backing)
has not been touched since before Thanksgiving. I need to get back to it. In the meantime, I have been sidetracked. I am currently working on making something for my cats.
I discovered that BOTH of my cats love flannels. They were caught several times sleeping together on two flannel shirts that were tossed on the bed. Now, you have to know my cats. They are not at all fond of one another. But, I guess flannel brings them together. Ha!
Anyway,I bought these flannels at a bargain and I am currently turning them into bed runners. The one that is ready to sew is actually an orange color with the same print as the brown. We'll see how these turn out as I am just winging it - using idea(s) and pattern(s) that are in my mind. Ha!