Background Information: Dan started racing F1 (Formula 1) on the XBox 360 with a group of co-workers a couple of years ago. From there, he started watching the real Formula 1 races. He got so addicted to the races that he would download the races to watch them at work during lunch. He often would listen to the races while studying up on this or that. He is good at multitasking. If his co-workers start to talk about the race before he gets a chance to finish watching, he would stick his fingers in his ears and go "la la la la". Not really. But, you get the picture.

Well, back in early December, the guys started racing the new F1 game. If I remember correctly, Dan smoked the second game they raced after losing badly the first time. One of his co-workers sent an email with a picture attached to the group razzing Dan out (in fun). Here is the email and picture (with important details redacted).

For Immediate Release
December 12, 2011

Following their success and record breaking results throughout the last two Formula One seasons, the Red Bull Racing team was visited by the FIA motorsport council to present them with the an Achievement Award at their HQ in Milton Keynes. However, during the visit we found Red Bull was CHEATING. Their top driver and Team Principal Dan ******* was found reading the condense setup manual from team Ferrari, McLaren, Lotus and Sauber. Dan was immediately inputting the setup info into his simulator code. This setup is how Red Bull was able to recreate the Blown Diffuser mapping used during low speed corners. This is a direct correlation to how successful Red Bull has been for the last 2 seasons. FIA is actively looking into the DanResearchGate Investigation into Ferrari, McLaren, Lotus and Sauber for collaborators. Initial research has shown, Red Bull was adding Sodium Pentothal (Truth Serum) into their famous Red Bull energy drink to chief engineers at the above 4 factory teams.

Stacy Von Heikle
FIA Press Director"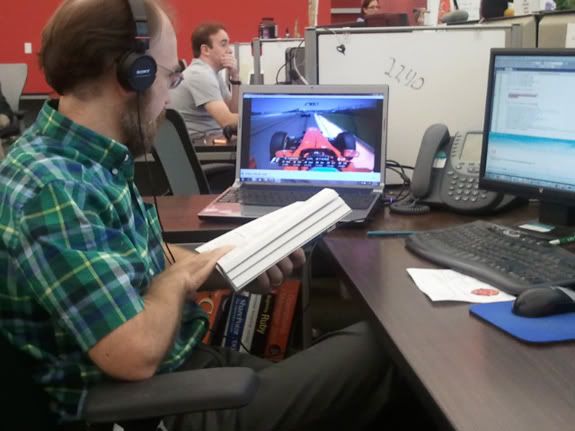 Dan's response:

You say "Cheating", I say "Research".

By the way, that's an autographed copy of "The Adrian Newey Guide to Formula One Setups". I can neither confirm nor deny the source(s) of his information.

Immediate Reply:

Adrian Newel is unavailable for comment when TMZ called for an interview. TMZ photographers spotted Adrian Newey in Tibet serving Red Bull to the local monks. We want to know why Adrian is serving Red Bull to the highland monks. Maybe it has to do with the myth that Tibetan Monks can glide? This will make Red Bull harder to beat if they glide across the track. More info to come.

You get the picture. Those guys are addicted and they got Dan addicted to a sport for the first time I have ever known him. Now I understand what it means to be a "football widow" except I deal with racing instead of football. Ha! They sure do have a lot of fun in that office. It's the best place in the world to work in my humble opinion.

PS: I really really like that picture of Dan reading some textbook and watching the race.