Trash to Treasure: Before Pictures

I had originally posted pictures of a nightstand knowing my sister-in-law would give me grief for not posting more on the progress we did on the furniture. Sure enough, that afternoon (after I posted), I received a message from her giving me grief because I had not showed more! It made me laugh! I sure love to tease people. She knew that we had done some work on the nightstand and wanted to see pictures.

We are about halfway through the work on this particular piece of furniture. I am real pleased on the progress. The making of the new legs slowed us down because he had to figure out how to make them. Things should progress faster now that the new legs are on the furniture.

Here are a few pictures I took of the work in progress:

April 30th, 2011 (the day we rescued the nightstand):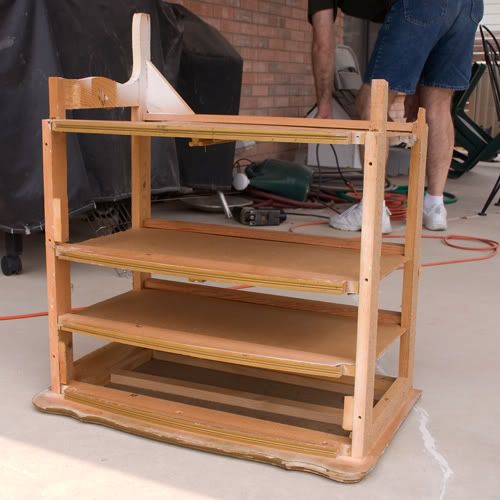 Stripped Down to the Bare Bones
First Tried Using Jigsaw to Straighten the Ugly Curves
No Reason for this Picture – Just Thought it was a Cool Shot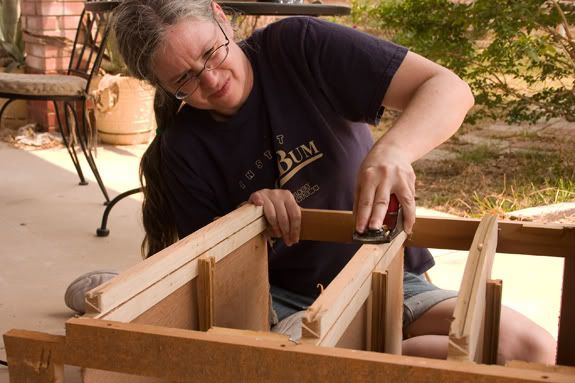 Attempting to Smooth the Edges with a Plane
Dan Took Over – it was Easier to Use a Plane Rather than a Jigsaw
Another Meaningless Picture – Thought it was a Cool Shot
We also squared the top of the nightstand. I have no pictures of this process. I have no clue to why. Maybe I got tired of taking pictures. ha! Anyway, it was done with a plane too.
On Approximately May 7, 2011: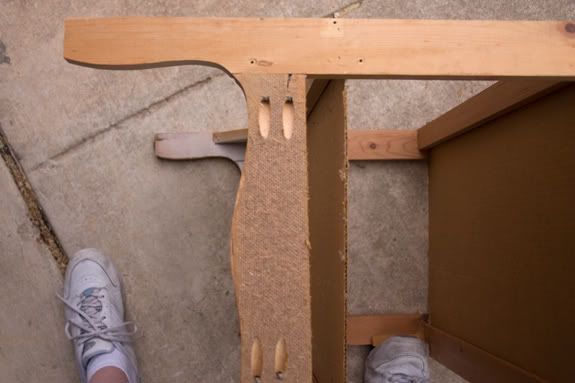 A New Back Leg/Foot and I'm Not Talking About the Legs Attached To the Human Feet. Ha!
It took Dan some time to come up with a jig that would work for creating the new front feet using the table saw. Both of us really did not want to spend more money than necessary. And, life took priority over this project (and all others).
June 4th, 2011: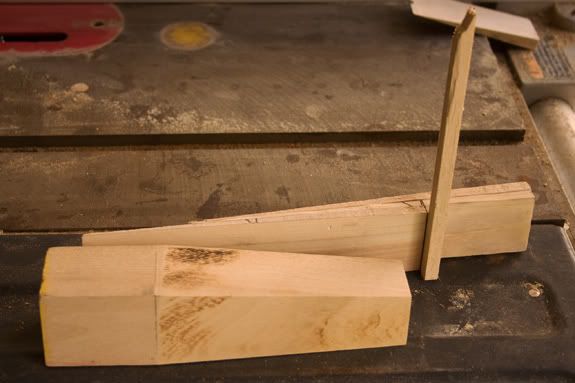 Dan's Rigged Jig (in the background) Helped Create the New Simple Foot
We then had to get a few supplies such as bolts to screw the new feet onto the nightstand. Fortunately for us, we found some at Walmart. So, we did not have to make a run to Home Depot or Lowe's.
June 5th, 2011
New Gorgeous Feet
Close-up Shot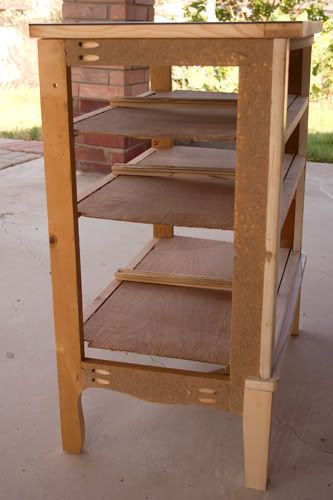 Side Perspective
This is the current state of the "Trash to Treasure" project. The next step is to create and attach the new sides to the nightstand along with the old backing. Once that is done, we then will prime and paint the nightstand and its drawers and put on the new handles. It is so close to be done!