On Saturday, April 30th, I went for my usual walk and I spied a nightstand out on a curb waiting for the trash man to come and pick it up. I took a look at it and started thinking…

A little while later, I made the decision that I would like to try to salvage the nightstand and totally change the look. I asked Dan to take a drive with me to check it out. He gave the "go ahead". We took off with it feeling rather weird for dumpster diving. But hey, if this works, I will get a cheap nightstand out of the process.

When we got it home, we made the decision to postpone the work on the desk because I felt that the work on this nightstand would go quicker. The work on the desk is slow going as we do not want to destroy it in the process. It really was put together by an amateur woodworker. Dan found sandpaper between two pieces of wood. He had hoped it was newspaper with dates. Ha!

Anyway, we have been working on this "trash to treasure" in our spare time. Actually, in Dan's spare time. I would say that it is about a third of the way done. So far, I am thrilled with the results. I have always had round tables with skirts. I must confess that I hate them. I have been looking forever for nightstands; but, I am too cheap to spend a lot of money to replace something that we already have that is functional. I am excited about getting a "new" nightstand soon!

Below is the trash (before) pictures of the nightstand.


UGLY!
Shocking News: The Medallions are Plastic! Ha!


Details of Ugly Feet.
More Shocking News: The Feet are Plastic Too!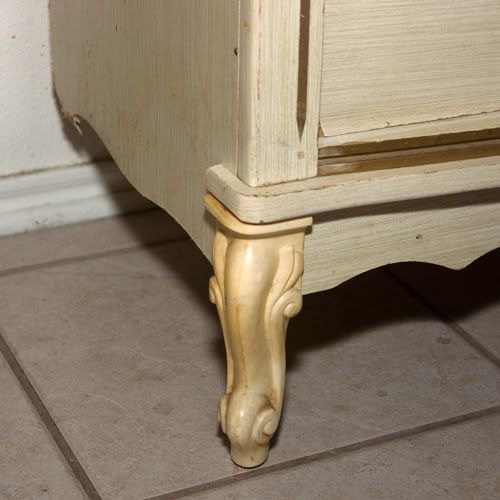 More Details of Ugly Feet Including a Broken Back Foot.
I have been taking pictures of the work on it periodically. I plan to post pictures of the process when it's almost done (before painting). I also plan to post pictures of the completed nightstand (after painting).