It has been awhile since I posted any sewing/quilting related projects. I have a couple of quilting work-in-progress (WIP) projects I am working on.

Quilting Book Club: May

Information:
Book Used: Modern Basics by Amy Ellis
Quilt Pattern: Basic Ease (page 7)
Fabrics:


"Red" & "Green": Happy by Jennifer Ryan for In the Beginning 2010
"White": Polka Dot Garden by Jennifer Heynen for In the Beginning 2011
Binding: Redwork Rendezvous by Alex Anderson for P&B Textiles (It is a black fabric with tiny white pin dots)
Top Completed: May 27th


Closeup Shot of fabrics: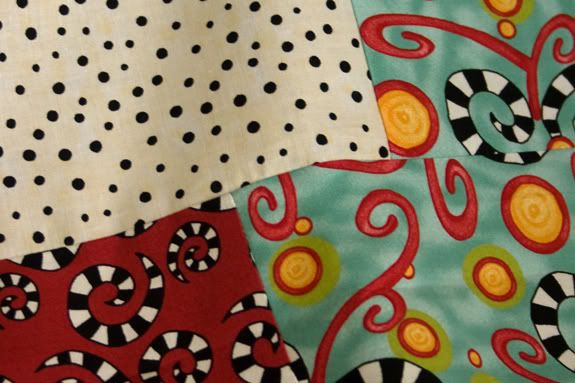 Back Completed: June 9th


Note: It takes me awhile to complete the backing because I tend to patch up a bunch of leftover fabrics. I rarely buy separate fabric just for the backing. I tend to buy extra fabric required for the front for 1) just in case I make a mistake AND 2) to create the backing with.
Sandwiched, Pin Basted, and Ready for Quilting: June 19th

I am one frustrated quilter. There is so much I want to do quilting wise; but, I am so limited with my home sewing machine. I wanted to do something a little fancy with my mother's Maxine Quilt; but, I could not due to my machine's limitations. I do not want to pay an arm and a leg to send it out to be quilted by someone else. It is already expensive enough as it is with fabrics. I did a little research and purchased two items for my sewing machine. I am ready to give it a try again. I will have to set it up and practice on a sample first and see what happens.

For now, it is gently folded up and ready for quilting. I think I am going to finish piecing the layer cake quilt (below) and get that ready for quilting too. And then, I will work on quilting two quilts.
Layer Cake Quilt Along
I am way behind on this. Heh. This is what happens when your machine breaks and sits in shop for two weeks -- you lose your focus and dedication. I am unfocused anyway. So, what does it matter? At least, I picked this back up and am working on completing this project. That is saying something. What am I saying? I don't know. I am unfocused, remember? Ha!
Block 12 Completed: June 15th



On my design wall last night (June 20th):



Since my blocks are not all the same size, I am attempting to square them up by corrupting the PURE fabric line with the addition of a "Pound Hounds" fabric by Sue Marel ©2011 RJR Fabrics. This should be a piece of cake since I did the same thing for my mother's Maxine Quilt (some of the panels were wonky) except I am stressing over the process.
By the way, I have been doing a little research into longarm (or midarm) quilting machines and Holy Cow! How can anybody afford to get one of these machines? They must either desperately saved up their pennies or got into debt by financing one. I do not believe in incurring debt and I would be an old lady by the time I saved up enough pennies to buy one of these machines. *sigh*. Hopefully, I will be able to use my sewing machine to do some quilting things I would like to do. We'll see.