I have been wanting to get away from processed foods. You wouldn't believe how many brands of breads and the like have "high fructose corn syrup" as an ingredient. It is shocking.

FYI: I've been trying to get away from foods that contain this ingredient and let me tell you, it hasn't been easy because virtually everything has it.

I came across this recipe for Hamburger and Hot Dog Buns on the Mennonite Girls Can Cook blog and wanted to give it a try. We couldn't find any multigrain flour. So, we settled for wheat flour.

Dan and I made this one together on Saturday, August 14th. We just seem to like being together in the kitchen. It's fun.

This was the second time I used instant yeast. I did research and learned a little more about how to handle the stuff after my attempt at making pizza dough using instant yeast flopped (it didn't rise).

I must tell you that I had very little faith that the dough would rise this time. Imagine our surprise upon checking the dough to see if it rose. I couldn't believe it! Success! I was practically dancing around the kitchen. Ha!

So anyway, we haphazardly squeezed portions onto the cookie sheets. We didn't have a clue to what we were doing. We ended up with various sizes and baked them after letting them proof a second time.



Let me tell you, I was so pleased and thrilled with the results. I am hoping that the next time I make buns or bread that they'll be even better - I'll know more about yeast, making breads, and the like. At least, I hope to know more!

I dislike the boring hamburgers and would rather eat a hot dog. So, we found and made several different hamburger recipes over a period of time. So far, I like the Cola Burgers recipe from Taste of Home best. Yeah, yeah, I know, Coke has "high fructose corn syrup" in it. But, what's a girl to do? Except keep on looking for more hamburger recipes.

Anyway, I had made up some several weeks prior and froze half of them. We took the ones frozen out of the freezer.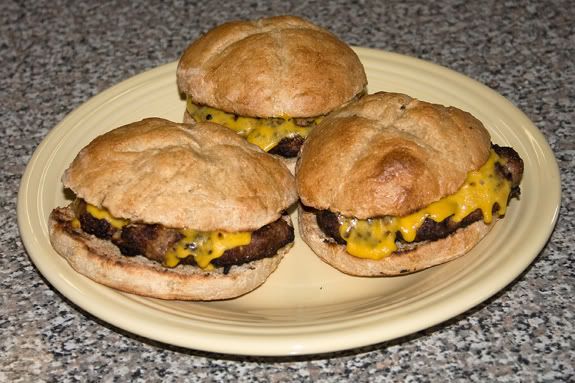 And, we had Cola Burgers with the Homemade Burger buns on Monday night (August 16th) for dinner. Yum!