Since we had no obligations for Tuesday, we decided to leave early. We were out and about when we made this decision. So, we returned to the hotel arriving around 10:30am. We packed like maniacs. I now know I can pack up my crap in a hurry. We were out of there by 11:04am – a record breaking time. And oh, I think I got enough exercise for that day running to and from the vehicle at the hotel.

We decided to lunch at Lambert's Cafe before leaving town.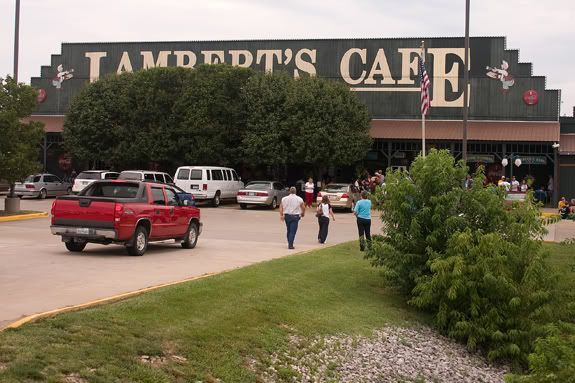 The weather was horrid. But, that didn't stop me from trying to take pictures of the place. It's very interesting.



This place accepts cash and checks only. So, be prepared ahead of time. It is also very pricey. So, have a hearty appetite to make it your worthwhile. And, be prepared to wait awhile to be seated as it's a VERY popular place.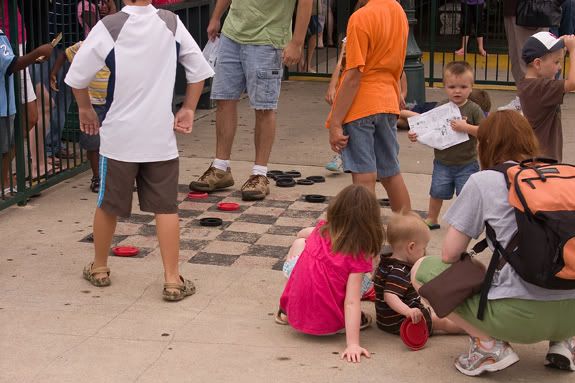 Giant Checkers board game uses beat up lids from Thermos jugs. People could play this game while waiting in line to get in.

The walls are covered with pictures, license plates, and tin signs. There were flags of all kinds hanging from the ceiling. There will be people coming around with sides such as Fried Okra, Fried taters, Black Eye Peas, and Macaroni and sweet Tomatoes. And, there will be a person that tosses rolls to you from time to time if you desire one.

I had a hamburger, which wasn't all that spectacular. Dan had a steak and he said it was very good.

And then we headed on out intentionally going through a funky interchange. We were inside Oklahoma within a hour.

Since it was a long drive, I was bored, and it was a gloomy day, I decided to challenge myself by taking pictures while we were on the move (mostly 70 miles per hour) to keep the boredom and doldrums away. It was a lot a fun not to mention a waste of time because the vast majority of the pictures were a total waste. Ha!

However, I did capture a few pictures that I liked while on the move.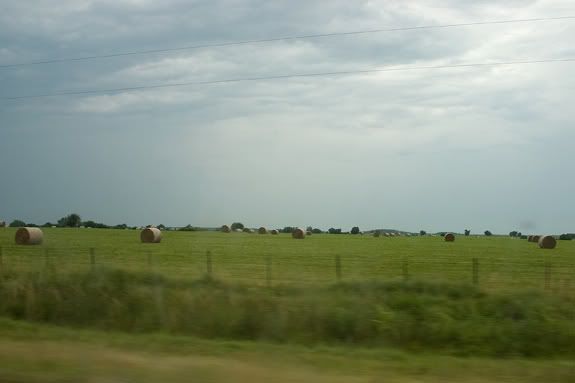 We saw a lot of Hayfields in Oklahoma



I chased a lot of sun rays through the state. It's not easy trying to capture a picture like this through a passenger window while on the move.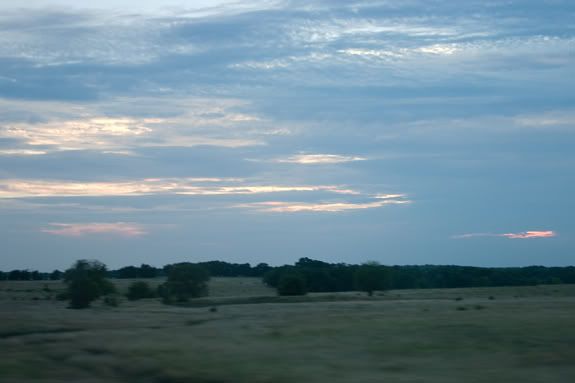 This was taken near the border of Texas while still in Oklahoma. The sun was setting.



We did stop once because I wanted to take pictures of a silo with a tree growing on top. I first saw this on the way to Missouri and wanted to take pictures; but, we didn't stop. At the time, there were a bunch of goats taking refuge from the sun under the tree beside the silo. And, the weather was beautiful that day.

I now wish we had stopped back then because the weather was awful on our return trip home. And, there were no goats this time around. Oh well. Maybe another time I will capture a priceless image.

We arrived in Sherman, Texas around 9:00pm. We had the worst night in a hotel that we will never stay at again. We both ended up sick from the effects of lingering smoke.

We learned a valuable lesson – just because we had a wonderful stay in Missouri with a hotel by the same name (chain), it doesn't mean another would be the same experience. We will now stick with our standby hotels and not deviate from them unless we've checked out hotel review sites beforehand.

One good thing that came out from this experience is that while rushing to get out of the place early the next morning, I spied this underneath a stairwell…



What the heck? I looked up. And, Lo and behold..



juvenile Barn Swallows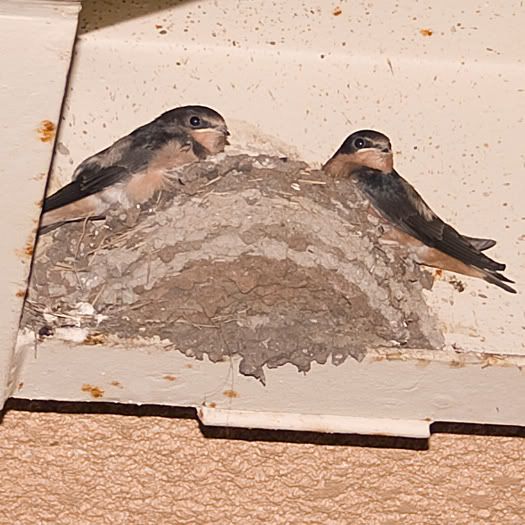 I couldn't linger because the babies' parents and older siblings (Dan said there were four of them) were beginning to make a racket and were pitching a fit concerning me. I didn't want to trouble them too much. I felt blessed by this little discovery. Good things can happen in bad places.

We continued on down the road, grabbing some breakfast from a nearby gas station. I didn't want take a chance at the hotel's free continental breakfast. I wanted out of there like a bat out of a cave.

While we continued our trek home, I spied a billboard ad for quilt store located in Waxahachie, TX. We decided to stop and explore.

It's a very nice little "town" and the Square (downtown) is in good condition. I believe I would like to come back here and explore as it looks like it has plenty of antique stores and the "town" has character.



We eventually found the Common Threads Quilting store. I explored the store and didn't see much I absolutely had to have. However, I thought the prices were reasonable in this little shop. I did make a couple of purchases.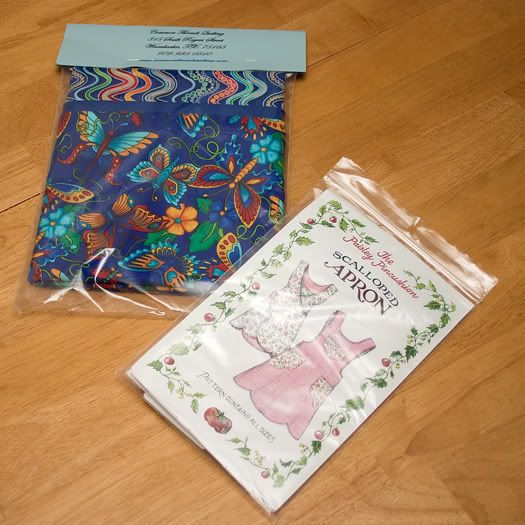 Pillowcase kit & Apron Pattern

I am sorely in need of a new pillowcase for my extra pillow. My sister-in-law made and gave to me a Garfield pillowcase eons ago and it's not going to last much longer. So, I decided to purchase this kit in hopes of learning how to make them. And, the price seemed reasonable.

As for the apron pattern, I've become such an Apron fanatic lately. However, I don't like paying the high prices of the aprons I've seen for sale. I saw this pattern for sale in the Missouri Quilt stores; but, the prices were a little too high for me. However, it was under $10 at this quilt shop. So, I decided to get it.

I'm NOT a seamstress. I am amateur quilter. I don't sew clothes nor do I know how. But, hopefully, I'll be able to figure this one out when I'm ready to make one.

We both decided to linger and explore one antique store before moving on. I love rummaging. I love shops that sell "junk". However, there are only a few things I will ever purchase and the price must be right for this thrifty gal. When I spied this…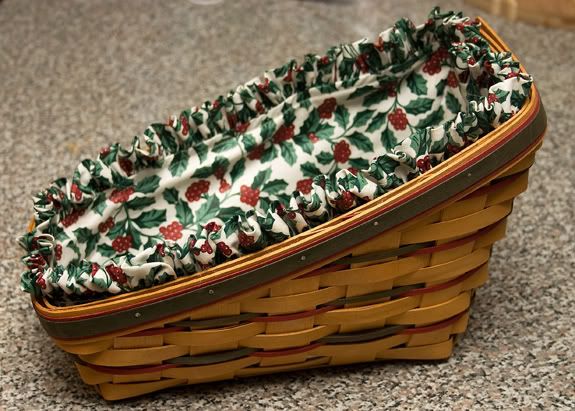 Longaberger basket for $9.00, I had to get it!

I believe that the basket itself was once part of a retired 1999 item called "Santa's Helper" – it looked like a sled. Somehow, the "runners" got lost. But, I didn't care. The basket itself is still excellent shape not to mention serviceable. And, it's Longaberger! Ha! The only thing this particular basket is lacking is a protector. Maybe I will find one off eBay someday.

You have to understand, I love the Longaberger baskets. The quality is outstanding. But, you often pay for what you get. And, forget about the retired baskets. Translation: prices are often sky high and out of my budget range.

Maybe I'll show off my tiny collection of Longaberger baskets here someday.

And now, we return to our regular scheduled programming. (Enough with the babbling.)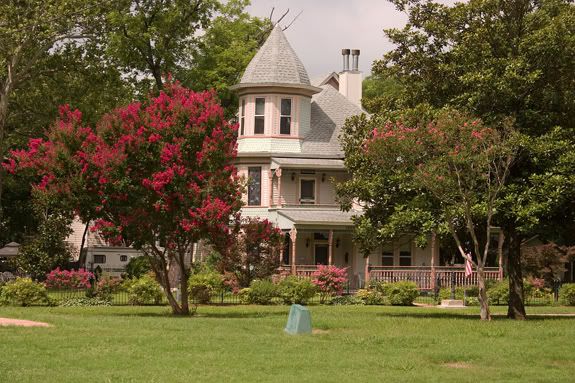 We stopped to take pictures of a house I fell in love with on the way in downtown Waxahachie. These pictures do not do justice to the house itself.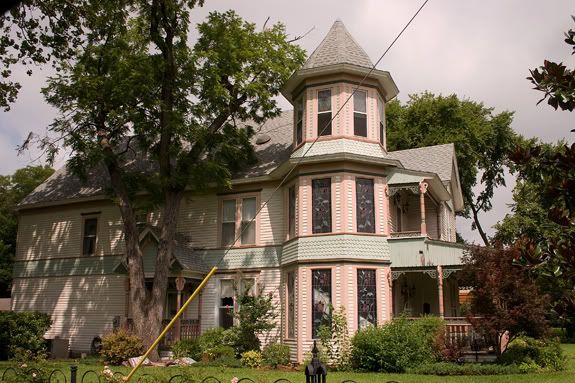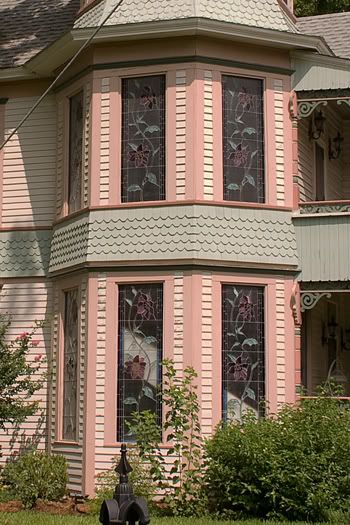 We had lunch in Italy, Texas, which was just down the road aways from Waxahachie. We can now claim to have eaten in Italy. Ha! The place we chose was Grandy's . We used to eat at Grandy's when they had a few in Houston. But, they disappeared and we missed them. The sides are still the same – absolutely delicious. And, the chicken is still very good. To me, Grandy's is better than KFC or Chick-fil-A – the food is good and the prices decent. I sure wish we had some where we live.

Then we continued on our merry journey, arrived home around 3:00pm and returned to life as we know it. In other words, we lived happily ever after! Ha!