On Monday morning of our sixth day of vacation, we went shopping! We were on the hunt for some antique and quilt stores. We found several stores online that were nearby our hotel and mapped them out. We went to the furthest one out first, which was an antique store. It was loaded with junk and much to my disappointment, closed.

Dan saw a Bead shop on the way up to the antique store; so, when I saw the place on the way back, I told him to stop.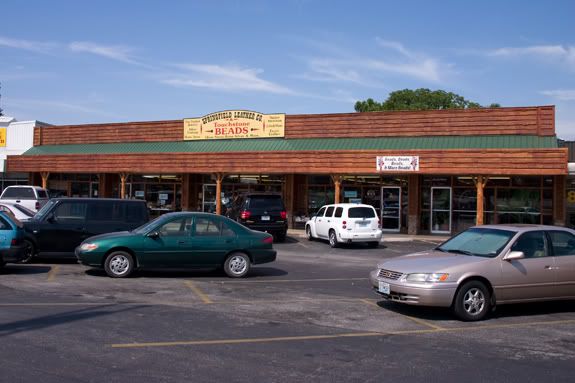 Like the good chauffeur and doting husband that he is, he did (stop).

I have a confession to make.

*takes a deep breath*

I'm a bead-aholic and I refuse to quit. Ha! However, I do try to be good about making purchases.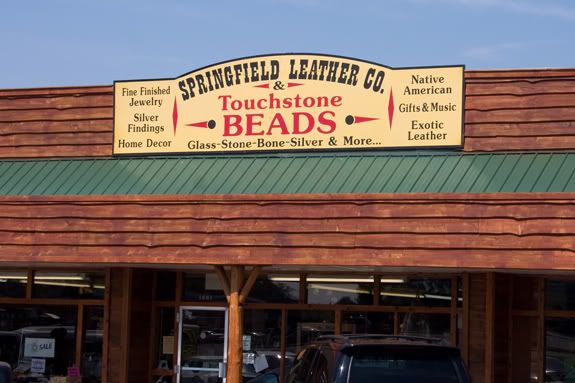 This shop is one of the coolest "dual" shops I've ever been in. You walk inside the door and on the left side is all leather and related merchandise – anything a leather worker would happen to want or need, he'd find it here (most likely). They had all kinds of stuff including tools, furs, fasteners, hardware and more. On the right is the bead shop. It is like they divided the humongous place down the middle, placed the registers smack dab in the center, decided who gets what side, and then worked in harmony forever. Ha! Both sides were decent sized "stores".

Anyway, I quickly roamed amongst the leather and then made a beeline to the beads. They had tons of beads. I was in bead heaven. I roamed and looked over everything and found some decent bargains.



My Bead Purchases

I got creative with Dan's help – we turned all the strings of beads I purchased into a framed flower for this picture. Isn't it cute? I know. I know. Silly. Ha! The strands that form the petals were $2 each and the ones that form the stem and frame were $1 each. I thought I did very well considering these were nice glass beads.

And then, we continued on down to the quilt shops. We stopped by the Quilt Sampler first. This store has a very unassuming storefront. It wasn't worth the effort of taking a picture. Don't let unassuming or boring storefronts deceive you. This was one of the best shops I've entered in a long time. It was loaded to the rafters with merchandise, fabrics, and the like. I had a blast wandering the store. And yes, I bought stuff.



The Loot

The fabrics are Fat Quarters. (Check out Fat Quarters and Other Signs of Madness for a definition and a humorous blog post on the insanity of collecting Fat Quarters.) These fabrics were on sale – buy 5 for $1 each. How could a fabric-aholic pass this up? Especially when she still needs a few more faux plaids and stripes for a project she plans to do someday? Not! Resistance is futile! Ha!

I picked up the book and immediately loved some of the ideas. I quickly located my husband to show it to him. It is an expensive book. I didn't want to get it if he didn't think it was good (he'd be doing most of the work). When I returned to him, he said to go ahead and get it. Yeah!

While my husband was perusing the book, I finished up wandering the store. I came across a quilt top hanging on a wall that was made from a pattern called "Baby Charms" by Bean Counter Quilts. The quilt top they made was the larger version for a boy -- it was so darn cute. The pattern can be used for girls too. So, I decided to purchase the pattern. I hope to make a baby quilt someday soon. Mother's Maxine quilt project comes first.

After I finished this shop, we went to another quilt shop called Merrily We Quilt Along which also had a unassuming storefront. In fact, we almost didn't find it. This place practically had an entire tiny shopping strip. A portion of the store has a tea room. I didn't find anything I absolutely must have. Personally, I liked the first quilt store we went to.

Then we decided to call it quits and go to lunch. We heard about Honey Heaven and the Bee-stro café while at the first Farmer's Market we attended. I wanted to go there, mainly to see the live hive and to get some honey. So, we went there to have lunch. The storefront was unassuming.

What's with the boring or unassuming storefront signs??? I don't get it. It certainly isn't attracting customers. And, not worth taking pictures.

Dan had the BBQ Beef sandwich. Let me tell you upfront, I dislike beef for the most part. However, when I tried a little piece, I immediately liked it. It was tender and not chewy (which I hate). I told Dan if I could have Beef brisket like that, I'd eat it. He said it was delicious. I had a grilled honey mustard chicken breast sandwich, which was okay.

We then explored the store, which was in the back of the place. There is a LIVE beehive in the back of the store. It was AWESOME! You can see a small picture of hive in the "bee tour" section of the website. That picture doesn't do it justice. The whole thing swivels and there is a PVC pipe which the bees travel through to get in and out of the place. This place can also be educational for young kids (adults too). I've always been fascinated with bees and hoped to have a hive or two or three someday. Heh. That will probably never happen. However, it did bring back memories of Daddy and his bees when I was a young kid.



I ended up purchasing two bottles of honey at what I thought was a reasonable price. So far, I like the honey. I mostly drizzle honey on top of a heel of bread with butter. Yum!