Camera {Picture} Dump I
A Gluten Free Bakery, Red Oak Bakery, in New Braunfels, Texas. April 22, 2015
Butterfly, April 23, 2015
I wanted my camera so bad! All I had was my lousy phone as I was waiting for my new camera at this time.
A Minion trying to get into my room! Ha! April 26, 2015
My new garden Hat – not so floppy! April 25, 2015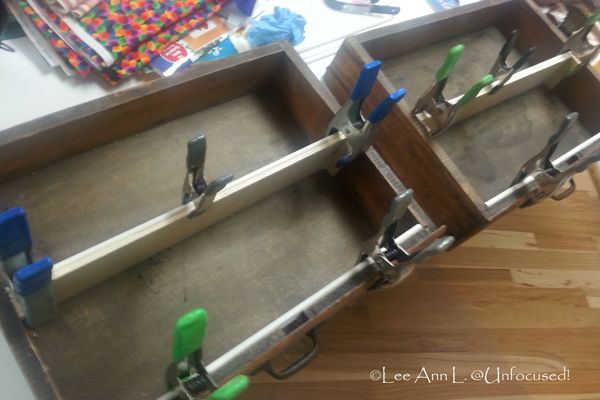 Upcycle: Old drawers into shelving units. April 26, 2015
Note: I had purchase four old drawers from an antique/junk store for $35.00
My new camera finally came in and what do I do? Snap a picture with my phone. Shaking my head (SMH) April 29, 2015
Pickling cucumbers (first harvest); May 6, 2015
Turned them into pickles! May 10, 2015
Yummo! May 10, 2015
Note: A total of eight jars of pickles were made.
Note II: We had a second harvest of pickling cucumbers and made relish.
Dug out an old UFO (Unfinished Object) to work on. May 15, 2015
"You can take the cat out of the wild but you can't take the wild out of the cat". – Dan
This was his response to my text concerning Abby losing her mind when she attacked me. I had to put her in time out for the first time in ages after she attacked me again a few minutes later.
This lousy picture is of her being loving and "asking for forgiveness" after being released from time out and slinking back into my room. She had worked her way onto me while I was on office chair and on the computer. She purrs, kneads, and snuggles my neck. How can you resist a mischievous bratty loving cat like that? SMH
This is what happens when a ripe pickle is missed in the last harvest – it gets huge and overripe! SMH May 20, 2015
And yes, that is Abby photobombing the picture.
T-shirt. I saw this and immediately thought of my eldest brother… And then one of Dan's brothers… And then, Dan himself… and then, a nephew….
In case you don't know, sarcasm tends to run in my family. SMH. May 22, 2015