A Hole in the Ground 2/8/2013
I went outside and discovered a humongous fresh hole in the ground by the garage. I was curious to see if I could capture a critter inside. Imagine me freaking out upon opening up and zooming into this image. My imagination got away from me. You do not see it? Here, let me help you: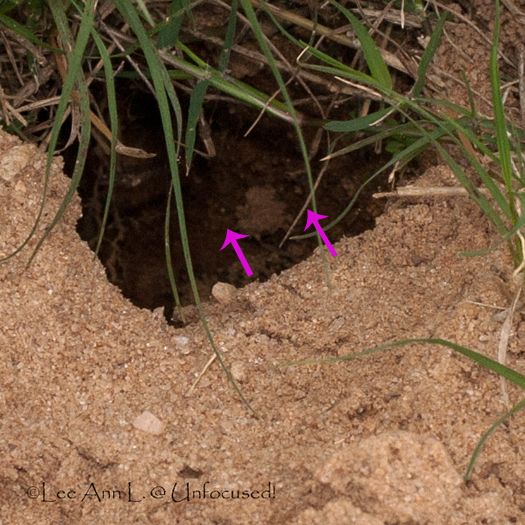 Eyes. It got eyes! Ha! 2/8/2013
Actually, I do not know why this jumped out at me. But, I believe the clumps of dirt are weeds and whatnot that fell into the hole as it was being made by a critter. We do not know yet what makes the holes and clumps of dirt all around the yard; but, I am determined to find out soon. There is a nursery out back that I plan on visiting and maybe the kind gentleman (owner) will tell me what is what. It is because of these (among other reasons) that I have not started on gardening. We are going to make beds and whatnot; but, I will not get started on any type of gardening until fall.
Wildflower from the Phlox family 2/10/2013
These are popping up everywhere on the land. I just hope the ice/frost that occurred several days later did not kill them off.
A Scrawny False Dandelion 2/12/2013
I love these and prefer them over the authentic Dandelions. In fact, I often will pull up the real Dandelions because they are insidious, tend to overwhelm the yard and kill off other plants.
Dotty Dotties 2/13/2013
I have been folding up tons of dotty fat quarters fabrics that I purchased from Fat Quarter Shop at 50% off quite some time ago. It just thrills me to have all these dots. I am wanting to make a quilt all with dots! It will be challenging and fun!
Partial Lazy-Boy Loveseat, Recliners/Rockers 2/14/2013
We purchased this last Saturday and Dan picked it up on this day. It had a middle console at the store; but, we opted to not get one as we want to cuddle up from time to time watching a movie or whatnot. It is not the prettiest thing; but, it is functional and we are both content. I am currently reclining with the laptop watching TV and blogging. Gracie wanted to get up with me; so, I got an old beach towel and put it down for her to lay on. She is happily sleeping beside me. It certainly is going to be a heck of a lot safer for us both because she used to sleep on the back of Daddy's recliner whenever I sat it in the chair. There has been times when I forgot she was there catapulting her onto my back and she would hook me with her dewclaw drawing blood.