Bordered Hourglass Block - 6.5" Unfinished
I started out a little shaky as it was my first time using Ken, my mother's Kenmore machine. But, with each block sewn, it got better especially after I got a few cheap tools to help me out since there wasn't a 1/4" seam guide on (or foot for) her machine.
Puss in Corner Block - 5.5" Unfinished
You can see that I fussy cut the center square. Cute, huh?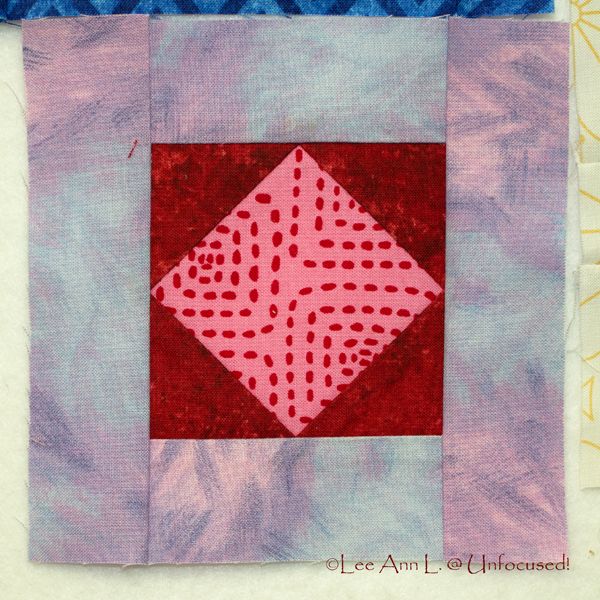 Bordered Square in Square block - 5.5" Unfinished
Pinwheel block - 4.5" Unfinished
Square in Square block - 3.5" Unfinished
I divided up Section 1 into three logical mini sections and proceeded to choose fabrics for the strips for each mini section. I then cut and numbered them at the same time to keep them all organized.
While sewing the strips, I decided to switch back to using Jan (my Janome). In the meantime, I will take my mother's machine in to be serviced as I believe it has never been serviced in its lifetime.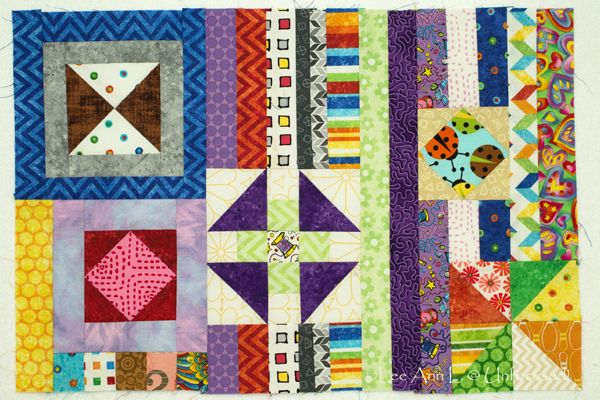 Section 1 Finished
It is not perfect; but, I am fairly pleased with what I have done so far. A partial seam made it challenging and is a first for me. I am thankful for the ladies hosting the Quilt a long because their tips and documents were so helpful!
This is the first quilt that I am working on I that I have thought of as "mine". The others are either for Dan (the hand quilted one in progress) or for fun.