I believe I have mentioned that I haven't taken much in the way of pictures due to an office cleanup and purge. I have not done much sewing or crafting either due to this reason.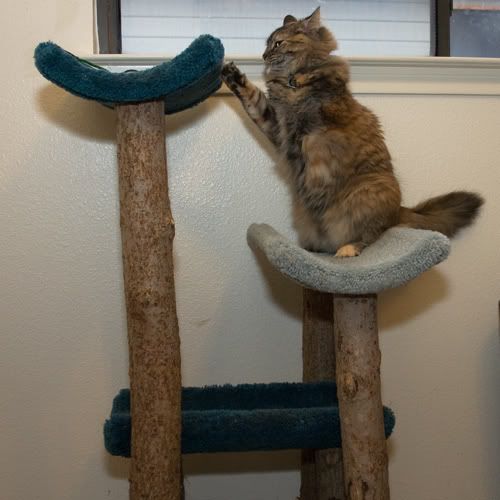 We can now fit comfortably in the office. Gracie is very happy because it is the one place she feels very safe. The small cat tree fits perfectly under the windowsill. Dan can pick up playing his Banjo again. And, I am no longer going insane from the madness of boxes, crap, and whatnot. I took pictures of everything except the last Goodwill trip. Here is proof that we did do a major purge.
I recycle papers at a nearby school. I call it "the dump" because it is where we can dump papers, newspapers and cardboard into community dumpsters to be recycled. Note: The 30-gallon bag on the left is full of shredded papers from the filing cabinets and more.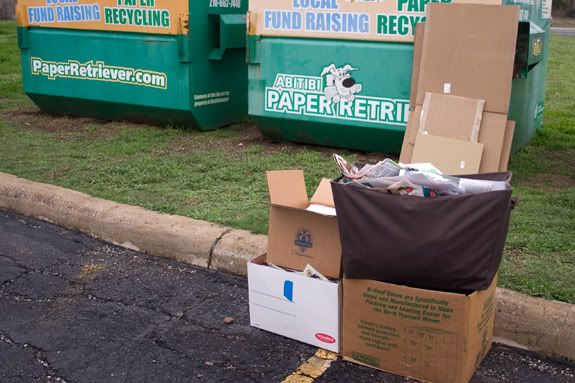 This is the second trip. We got rid of tons of paper along with some cardboard boxes, did we not?
Our first Goodwill trip. Note: I forgot to take pictures of the second trip to Goodwill which was two and half boxes full.
Did you know that
Dell
and
Goodwill
have a
partnership
where they accept most computer equipment of any brand? We donated an ancient Hewlett Packard printer several months ago with no questions asked. Anyway, Dan donated several ancient laptops he was hanging onto. The Cheer box in the picture above contained tons of computer equipment and power cords. I am real proud of Dan for getting rid of what he did. He still held onto a few things that he thinks he can use in his future office. He really wants a multiple computers setup someday.
These are all books plus a few software and music CDs. By the way, for most of the software we own, I keep the original packages along with papers.
We took these boxes to
Half Price Books
yesterday. We were both surprised that the store bought everything. (I had told them that whatever they cannot buy, please give them back because we can take them to Goodwill.) We gained $52.50 for all five of these boxes.
Before anyone gets on my case about
Half Price Books
not being a good place to sell back books, let me tell you that I already know this fact. I am just not inclined to take the time to sell them individually over the internet. It is a lot of work to set up online sales, box up the book(s), and ship them to the buyer(s). At least, this way we get a tad back for the books and I know people will be able to buy them cheaper and still enjoy the books.
These pictures do not reflect the tons of trash we threw out too.
Are you not proud of us for decrapifying our lives? Yes. I know 'decrapifying' is not a legit word; but, it should be one. Ha!
Maybe now life can return to normal? Yeah, right. The next major room to go through is the Master Bedroom and I am NOT looking forward to that project. I am taking a week off before beginning the work in that room. I will not be taking pictures this time around; but, believe you me, there will be a major purge of clothes from dressers and the closet. I also need to go through the bookcases and the Master Bathroom.