This is really a Tuesday post. On Tuesdays, I try to post anything fabric, quilting, crafting, DIY and more. However, I was out and about running errands yesterday and scoring some excellent deals and steals! So, I decided to combine Tuesday and Wednesday posts together. I hope y'all don't mind.

Way back in April, during the quilt shop hop, I purchased some Max & Whiskers fabric and blogged about the fabrics. I also mentioned that I was buying more of the fabric in this line. Well, I took pictures when all of the fabric arrived and then I promptly forgot about them. Bad ol' me!




Here is the entire line of fabrics that I purchased way back when. Confession: I have since purchased a few fabrics that went 50% off when I stumbled upon them at another online quilt shop. I was not a huge fan of those fabrics when I originally purchased more in this line. But, I just had to have them because they were 1) part of the line of fabrics and 2) 50% off! By the way, those extra fabrics are not included in the picture above. Maybe this is why I never blogged about the newer fabrics? I just did not have the inclination to take more pictures. I still don't. Ha!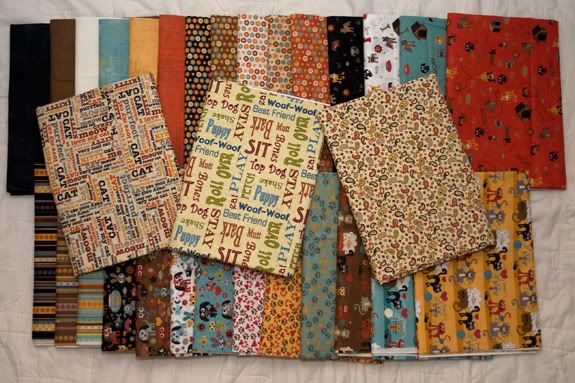 Here is a picture of the most of the fabrics I have. I mentioned in the original blog post that I was not too sure about the dog fabric. Well, the final decision is to eliminate the dog fabric - it just does not meld well with the others. Do y'all agree with my decision?