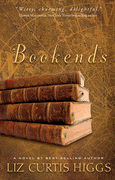 Author: Liz Curtis Higgs
Publisher: Multnomah Books (May 4, 2005), paperback, ISBN: 978-1590524374
Date Published: October 1, 1991
Category: Christian, fiction, romance

Synopsis

Opposites attract? Maybe not.

Emilie Getz and Jonas Fielding are as different as two people—of the same age, with the same faith, living in the same charming Pennsylvania town—could be.

She loves history; he loves new ideas. She sticks to the rules; he likes to break them. She's into saving relics; he's into saving souls. The one trait they share is a penchant for controlling every aspect of their lives, including their stubborn hearts.

When Emilie's search for an archaeological treasure leads her to the one piece of land she can't have (thanks to Jonas), they choose opposing sides in an engaging battle of wits. Emilie, a no-nonsense sort of woman, is determined to have her way. But Jonas is on a mission as well: He wants to hear Emilie laugh. Often.
I picked up this book at a nearby
Mardel
on clearance. In fact, I picked up a total of five books (really nine books because two were trilogies) for a total of $8.00.
Bookends
is a nice clean read, which is what I like most of the time. Both characters are older than your typical romance novel characters, which is great considering I'm older than your average romance reader. Their issues and struggles are realistic and the courtship is unusual. The storyline has humor throughout. Emilie's reaffirmation of her relationship with Christ may also appeal to many readers.
My personal rating: 4 out of 5 stars