I've done a couple of posts with Gracie. Now, it is Chessie's turn. Chessie is our elderly cat. She's going on 13 years of age and is a Maine Coon. We've had her since she was 12 weeks old.

The biggest problem with Chessie is that she's tough to take pictures of - very uncooperative. In spite of this, I've managed to get a few pictures recently that were okay. One of these days real soon, I'm going to just focus on her and hope I get a couple decent pictures out of thousands I probably will take. Ha!



April 4, 2010. Kodak EasyShare DX4530

As you can see here, Gracie is NOT alone is demanding attention by getting on the laptop. (picture of Gracie on laptop) Chessie does the same thing. She refused to look at me when I had the camera. Typical.

The following pictures were taken with Dan's camera (a Canon Rebel EOS using a wide angle lens) on the same day I took pictures of Gracie exploring the great outdoors, which was back in January. It was blustery day and she didn't like the wind one bit. So, she stayed inside.



Here she is gazing out the window. I slowly sneaked up on her and then snapped this picture. I was amazed at how well it turned out.

By the way, that is not the windowsill of the house. Chessie does not fit on normal sized windowsills as she is a BIG cat. She's not fat by any means - just big. I talked Dan into making a wider perch for her to lay on. It's basically a nice wide board resting on the windowsill with supports. She loves being in that window the most for obvious reasons.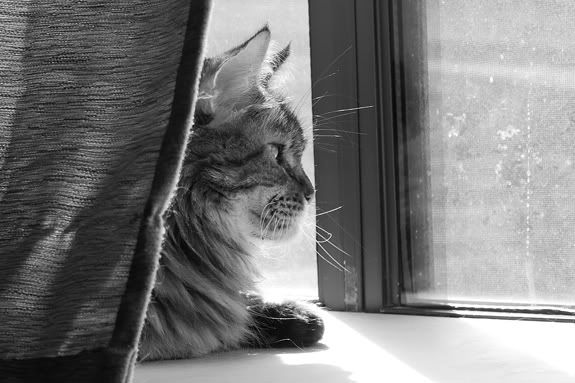 I turned this into a black and white picture and loved it!



"Put... the camera.... down...........now."

Chessie quickly got annoyed with my presence and/or with the fact that I had a camera. She's looking mighty mean here, isn't she? I dubbed this picture "Evil Cat". Seriously though, she's a very sweet, loving and gentle giant. :-)



This is a very old picture of Chessie -- a signature artist begged me to let her turn into a signature.