I am utterly shocked that I did not take any pictures of all the walls on the shed. We had completed that one Sunday and let me tell you, that was extremely hard work just for the two of us.
Just pictured the below without the men on top and the trusses, and that is what it looked like. Ha!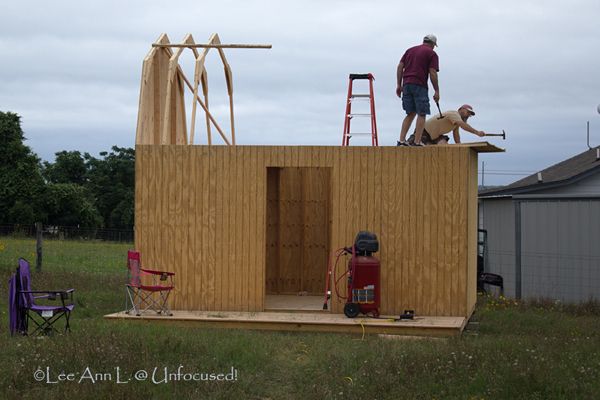 My brother and sister-in-law came out last weekend to help us build the barn and I was thrilled that they did. I was so worried about Dan and I putting up the trusses. My brother had a framing nail gun that was awesome and a much taller ladder than we had which made the work go much faster! They built the lofts which you cannot see and then started putting up the trusses before I even thought to take pictures.
Here you can see them putting up the other side. They braced the sucker and put up studs.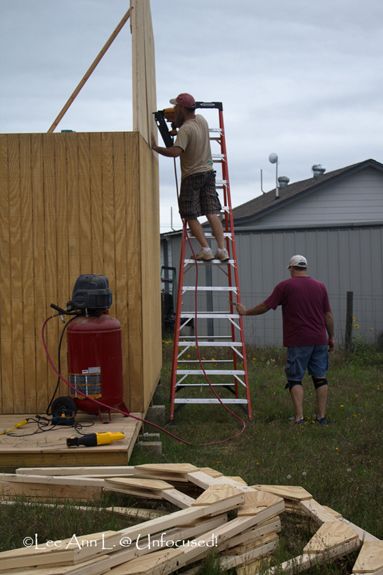 And, then went to the other side to nail the siding into the studs.
Here is the almost current view of the barn with all of the trusses. I am proud of them and totally relieved that we had help.
A severe thunderstorm blew through last night and we discovered the trusses were in danger of falling this morning. So, Dan went out there and I joined him to fix the problem. We discovered that the brace for the side wall failed and one of the trusses was missing a nail through the bracing strip.
We leveled the side wall/truss and fixed the brace down once again. Dan added more bracing strips to both sides of the trusses with my help. I don't think it is going anywhere now unless a storm wants to send it to OZ. Ha!
We had to do this before more thunderstorms blew through (which is predicted from this afternoon to tomorrow morning).
The plan now it to work on building the porch roof which will take us two or three weekends.