I have not let Gracie outdoors in eons due to suspicions that she is allergic to something, even when I brushed her upon returning indoors. When we mow down part of the back yard later this month or early June, I will let her outside once again. In the meantime, Gracie decided to sleep on my Mother's dry sink in the studio. She has been wanting to be close to me of late which is strange for her. But then, she has her moments. I decided to see if I can get a decent picture of her.
I then went to the other side to see if getting a picture from that angle would be better. I snapped a series quickly adjusting the lens and whatnot in between. (FYI: I rarely check the screen after snapping pictures.) The below is what I got.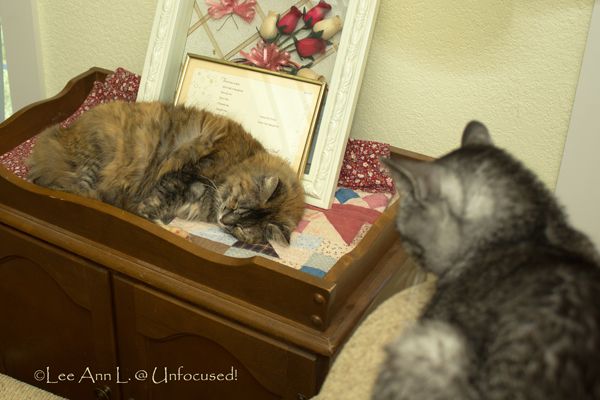 You can almost see Abby Gail asking "what was that?" after the first click. And then, checking the camera out upon the second click. She made me laugh and I had to abandon the project after taking a few boring pictures with her in focus.