I had put an old quilt that I bought at a steal years ago in my mother's dry sink in hopes the cats would use it as a bed and leave the rest of the room alone. Nope. Gracie prefers harder surfaces like one of the kitchen chairs that we placed in my room. And Abby Gail tends prefer to be up higher such as my cutting and sewing machine table.
But, when I fixed up a shadowbox and placed it in the dry sink, I discovered that Abby is now using it as a bed.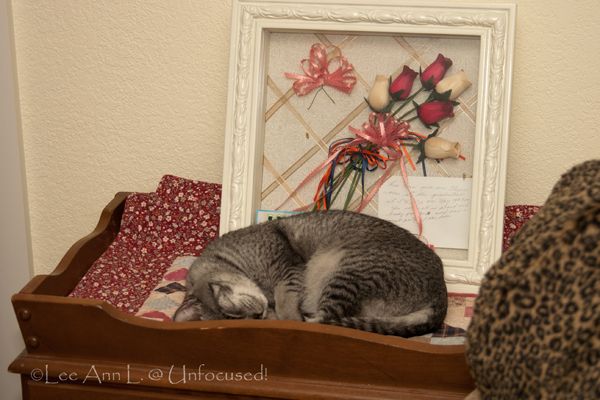 What is it with cats? They are never happy unless they think they are where they do NOT belong.
By the way, that shadowbox is a kit that I won years ago and I finally put it to good use. I was originally going to use it for something else once we settled down; but, I decided it was better to use it for the wooden roses I gave my mother and the card she kept along with them. The framing just reminds me of my mother and it was just perfect.