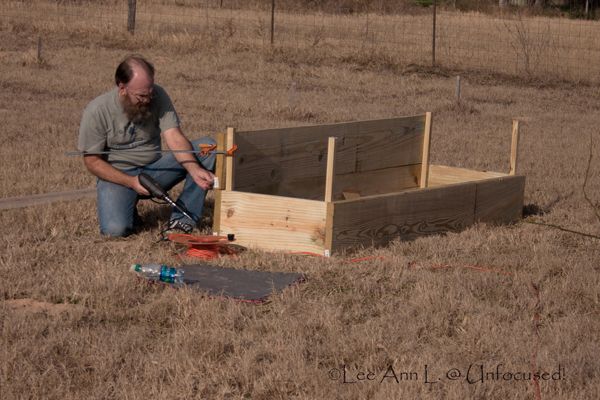 Dan building my potato bed. Although, it is not just for potatoes. This was started on February 1st and finished February 2nd.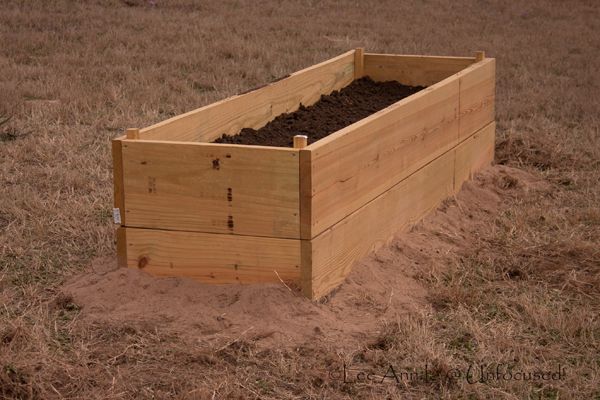 We filled it up with dirt around February 23rd. I planted two different kinds of potatoes, two different kinds of onions, garlic and carrots. We shall see if they grow as we have had two freezing spells since I planted.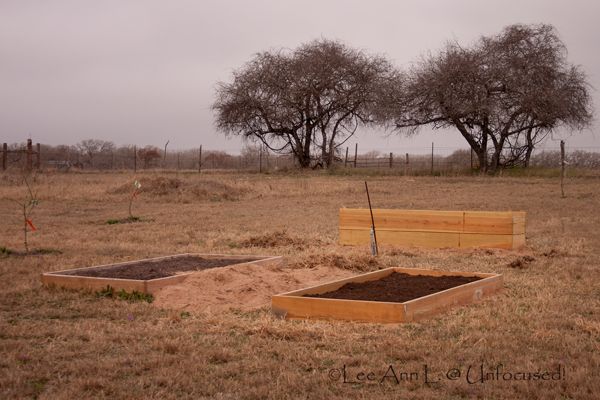 This is what the gardening area looks like. The bed on the bottom left is about a year old. The bed on the bottom right is new. The sandy dirt between the garden beds will eventually be used to fill up holes we make around the land. We already filled up a few fence post holes left behind from pulling them up.
Dan was feeling poorly on March 1st so he built the garden screen for me. That was to be my project; but, I let him do it because I wanted him to take it easy. I had already cut the wood for the frame. Dan put screws into the frame and attached the chicken wire to the frame. Talk about fun. NOT! I managed to get a small cut on my pinky finger helping Dan from the wire itself as I forgot to wear gloves. Dan got several extremely small cuts. The design is a modified version from the Square Foot Gardening book. And yes, most of my efforts is based off this book.
I planted strawberries on March 2nd (last Sunday). I am planning to purchase more strawberry plants as I would love to have half a bed of just strawberries. I planted the strawberries one per square foot. It is a four foot wide bed. I plan to eventually have a total of sixteen plants in a 4 x 4 grid. I was going to plant some vegetable seeds; but, I discovered that prediction of yet another cold front was coming through bringing freezing temperatures on Monday/Tuesday. So, I decided to put off planting the seeds one more weekend.
I do desire to have a herb garden. I even bought some seeds in hopes of establishing one this spring. I want it outside the back door where the herbs will be in mostly shade. My lavender and rosemary plants along the back of the house not only thrived in the shade during the extreme heat and drought of last summer; but, they also survived many freezing spells this winter!