I have many pictures to process from DIY projects, vacation, and crafting. I just have not gotten around to doing them. I also have not taken pictures solely for photographing practice lately. I plan to do both (photographing and processing pictures) soon.

In the meantime, here are a few more random pictures of my cats that I have processed; but, never shared. As you probably already know, my cats are the one constant source to photograph. The first picture was an attempt at getting a good photographic shot; but, I did not quite succeed. The rest are more like snapshots than photographs as I was not aiming for a good photographic picture. Instead, I just wanted to record for posterity sake. Ha!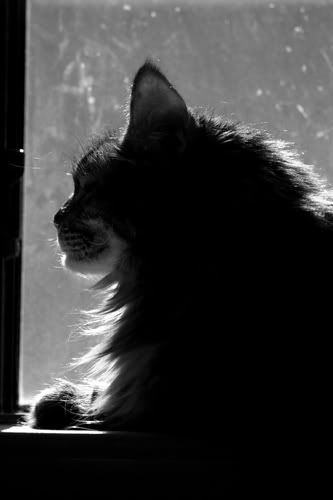 3/9/2011: Chessie Sunbathing in a Window
I was trying for a silhouette and did not quite succeed. However, I liked this picture well enough to keep. I personally like the black and white version better than the color.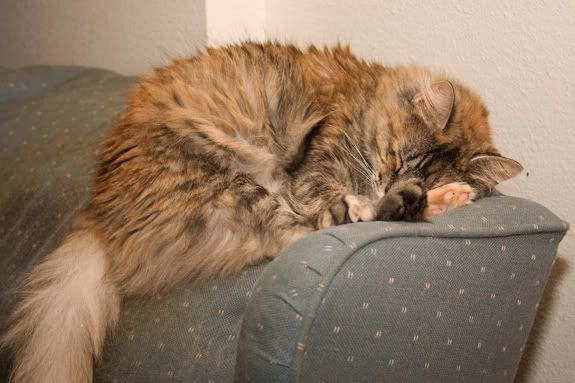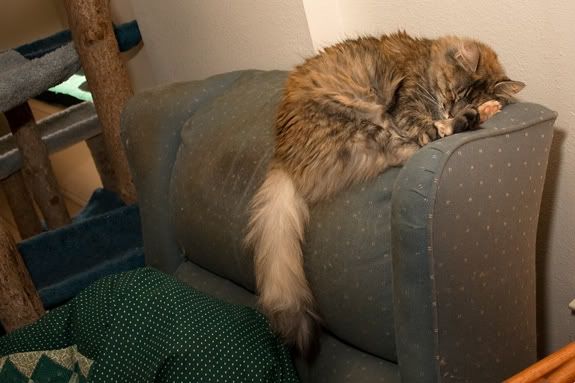 5/22/2011: Gracie on back of my Dad's chair
[Two different shots/pictures]
This chair is very old and was my Dad's favorite chair. It is a disgusting mess; but, still sound. My mother was going to throw this away when she purchased a brand new Lazyboy after he passed away. I would not let her throw Dad's chair away. I dragged it home and it is now just taking up valuable floor space. (We don't use the chair itself.) I am planning to have it reupholstered whenever we get a home of our own. In the meantime, Gracie lies on the back of the chair quite often and is in the seat frequently. She has adopted it for her own self and thinks it is hers. I let her think it is hers.

5/22/2011: My Sewing Companion
[Two different shots/pictures.]
The second shot is a perspective from my sewing chair, which is rather high considering the sewing cabinet is also a cutting table. You can see my shorts and a wheel of my chair at the bottom right corner. You can also see that I do not sew with shoes on my feet.
Gracie sneaked into the sewing room and made herself at home beside me while I sewed. I have to confess that I liked having a companion in the room. However, it just is not safe for either one of my cats to be in there. I think in my future studio, I am going to establish safe places for them as they really do want to be with me.