I blogged about making Pizza (or Tomato) Sauce way back in January.

Well, several weekends ago, we got together to do another photo shoot. This time it's pizza dough. For some odd reason, I was a little nervous and/or ditzy this time around. I kept messing things up a little; but, all in all, everything turned out just fine.



Yes, this recipe came from the same book the Pizza (Tomato) Sauce came from.



The Cast of Characters for making Pizza dough.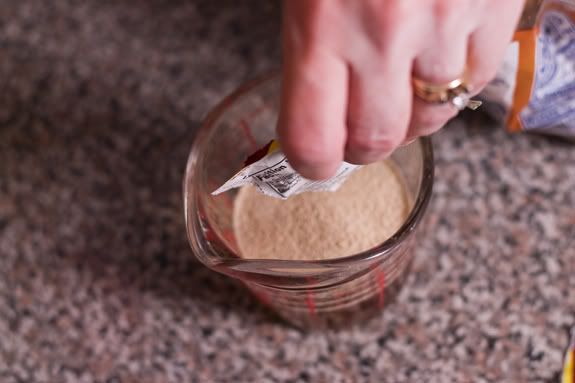 Measure ½ cup of warm water (about 110 degrees). Stir in about 2 tsp of light brown sugar. The sugar actually helps proof the yeast. Dump in two packets of the active dry yeast. Stir.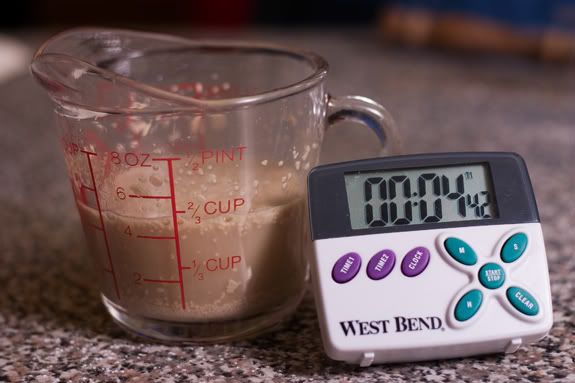 And, set it aside for approximately 5 minutes.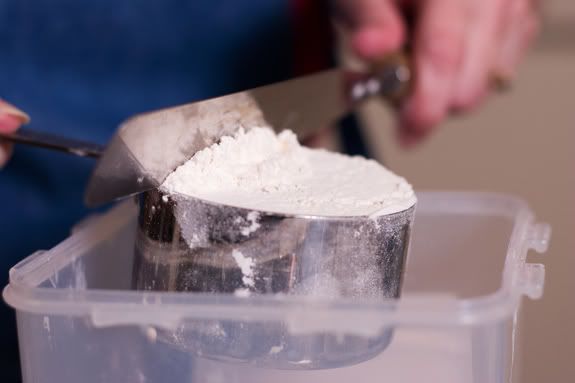 Meanwhile, measure out 4 cups of flour…



And, 1 tsp of salt…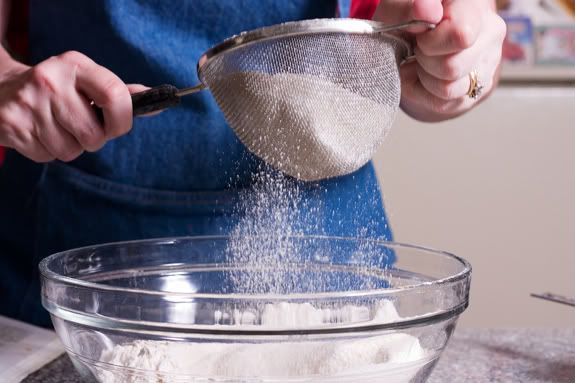 Sift them into a large bowl. One of these days, I'll be a proud owner of a nice large sifter. In the meantime, I make do with a small sifter and divvy it up by the cupful.



Make a depression in the flour mixture.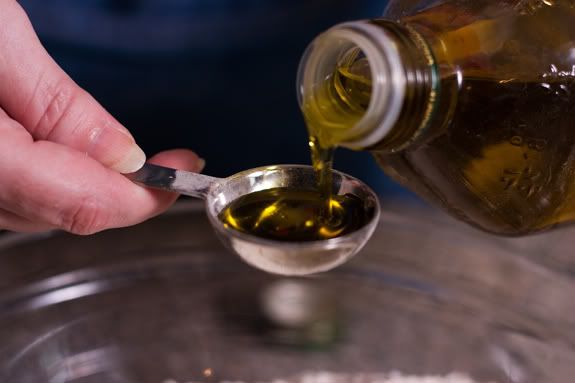 Add 3 Tbsp. of olive oil.

From here on, I kind of messed up the process (order of doing things). But, the dough still turned out fine. You're supposed to add a cup of warm water here. But, I forgot. That came later. Oh well, it is okay because it still worked!



By this time, the yeast will have risen (become frothy). Pour that into the flour mixture.



I started mixing up the ingredients and quickly realized that something was off. Oh yeah, the cup of warm water!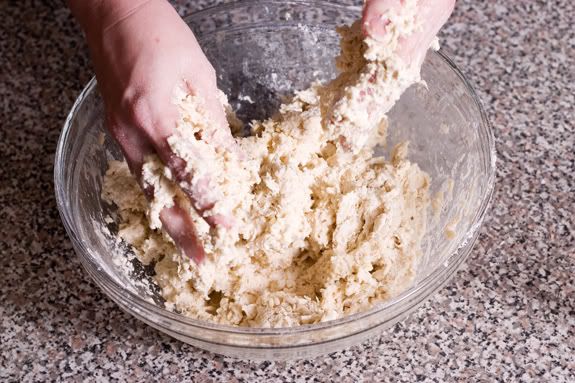 Because of my mistake, I struggled with sticky dough all over my fingers. What fun. NOT!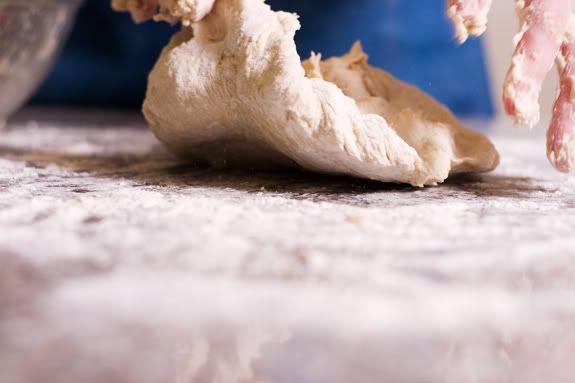 Dust the surface (with flour) on which you will be kneading the dough and start kneading. You will need to do this for 8 to 10 minutes.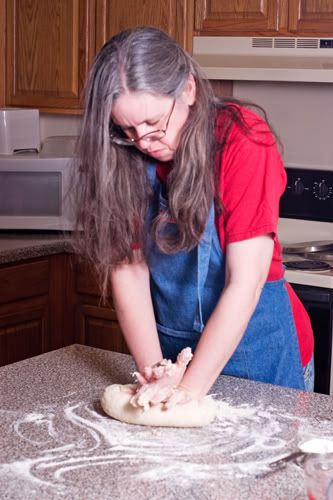 As you can see, I don't knead dough properly. I tend to knead dough with one hand slightly on top of the other, making my left hand sore.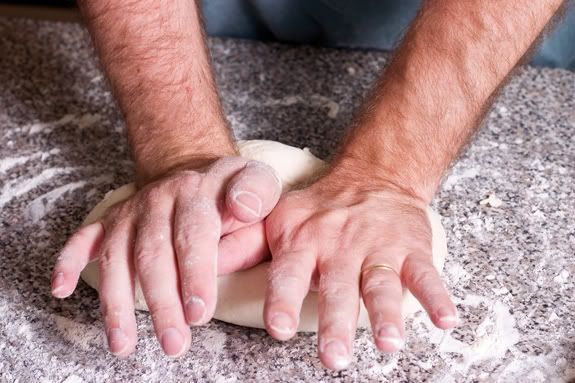 A close-up shot of… Whoa! Those are masculine looking hands! Not mine. Who could they belong to?



It's Dan my man. What a switch. We often do this when we make dough together. I start, he finishes. I took over the camera and snapped a few shots of him working in the kitchen. Not bad shots if I say so myself.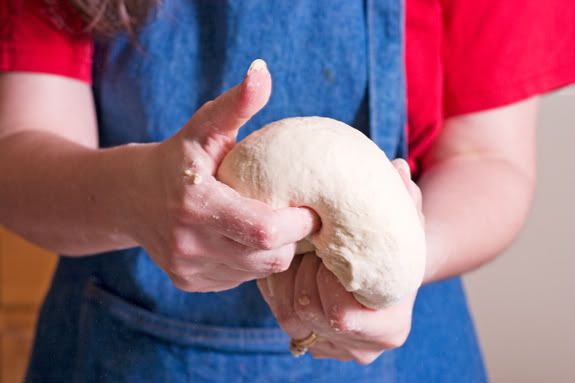 Form the dough into a ball when you are finished with the kneading process. It doesn't have to be perfect…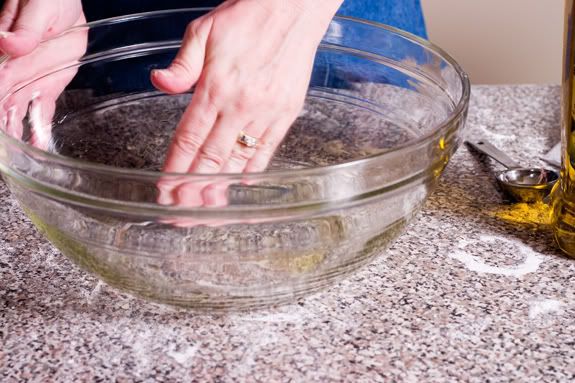 Rub some olive oil in a large clean bowl…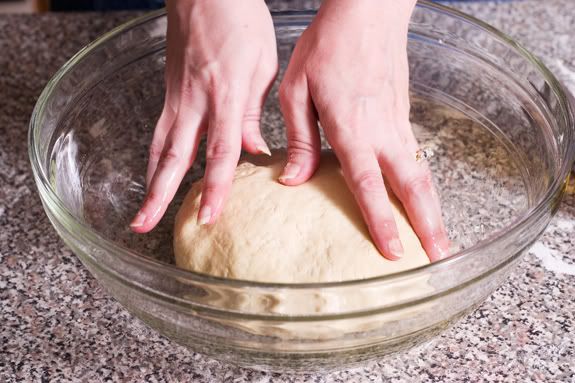 Place the ball into the bowl rubbing the olive oil all over it too.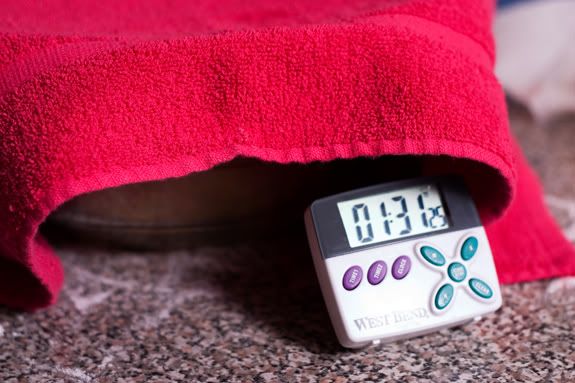 Cover with a clean cloth and let rise for approximately 1 ½ hours. It does best when place in a warm and draft-free place. I usually use the oven…

(Intermission)


Wow! It has risen! Hallelujah!



Beat it back down, gently of course.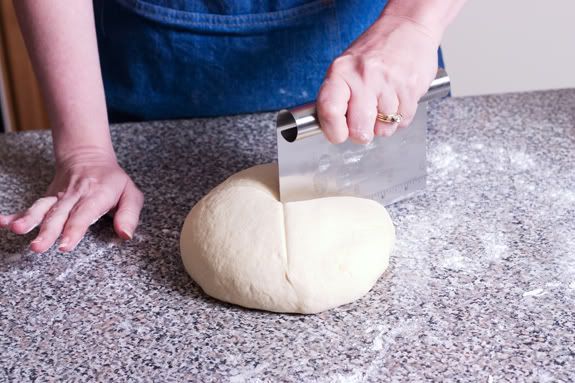 Form into a ball and divvy it up into portions. The book says it makes two thin crust pizzas, 12" each. Well, our pizzas are not quite that large and besides, I like thin, I mean thin, crust pizza. So, we divvy ours up into thirds instead of half.

By the way, that gadget I'm using is one handy dandy tool. It not only divides up the dough nicely, it also scrapes up the residue of dough off the surface we used to knead on. Works great!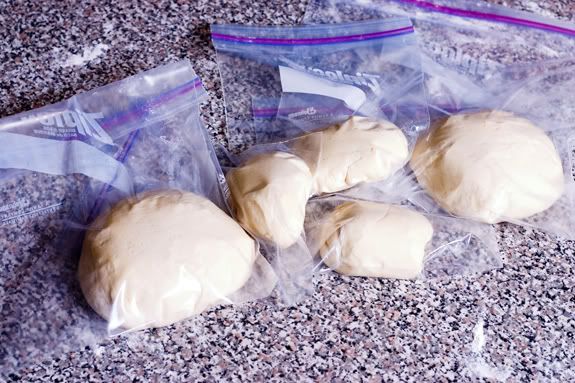 Place the dough into baggies and throw them into the refrigerator or the freezer. By the way, we divided up a third into thirds this time around so that Dan could make individual pizzas during the weeks I'm out of town (visiting Mother). Anyway, we typical throw a batch in the fridge while the others go directly into the freezer.

Let the dough come to room temperature before rolling it out and using. If it is at room temperature, it is much easier to roll out. Save yourself – let it come to room temperature. Trust me on this one. I know. Rolling out cold dough – it doesn't work out very well.

Added May 2010: Fun in the Kitchen III (Pizza! Pizza!