I was sitting at my Mother's kitchen table the morning on the first day of June. The sun was rising and I was getting ready to get online when I looked up and spied this...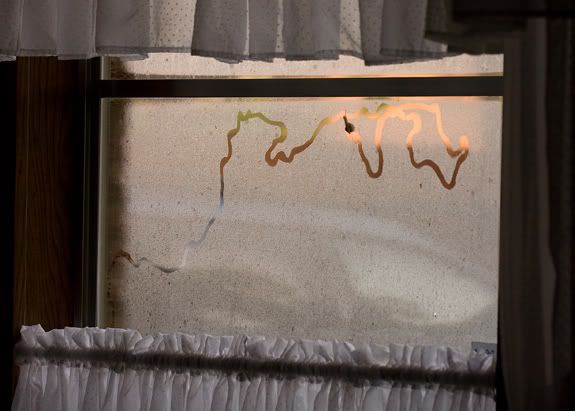 A Snail Trail

I found the imagery rather striking. So, I grabbed my camera to practice taking pictures. Everything is new to me - I am learning as I go. And, I'm clueless to what I'm doing using this camera and lens...



As I watched this snail wander all over the window, I got to thinking that he was actually sucking up (absorbing) all the dew (moisture). He was actually going for a drink and acting drunk while at it! Ha!

I went outside and was immediately drenched from the humidity. It was hot, muggy and very wet. I was shocked. It's been a long time since I experienced this kind of weather. It's so much drier where we live at now.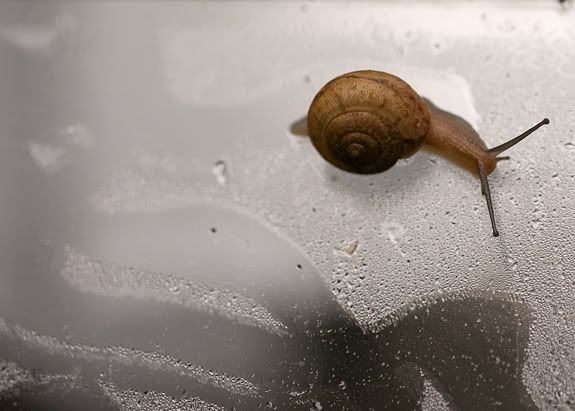 The humidity affected my camera lens too. I was able to capture several decent pictures before giving up and going back inside. This was the best picture of them all and even on this picture, you can see evidence of moisture gathering on my lens. I had to be quick and snap a picture before it got all "fogged up" again. it was NOT fun. However, I found that getting these pictures were so worth it.

By the way, I told Mother about the snail when I visited her later that same day. She said to kill it. I said "no way!" She said she doesn't like them because she thinks they're destructive. Maybe, maybe they are. But, if my memory serves me correctly, they prefer decaying plants. Also, they're God's creatures too.

{All pictures taken using a Canon EOS Rebel with Canon EF 100mm f2.8L Macro lens)