Here is a continuation of the garage conversion into a room of my own. You can find the previous post here.
Some concrete was laid to make the floor level.
Here I am early the next morning removing some of the casing around the garage door opening. I did not know Dan took a picture until after the fact. It is what it is (the way I look). Yes, we did some labor of our own to defray costs. Dan did a ton of work with the guys he hired which is probably how he managed to get a pinched nerve.
The new wall is going up!
Sheathed.
Tarred and Feathered. Errr... Some weather proofing paper wrap applied.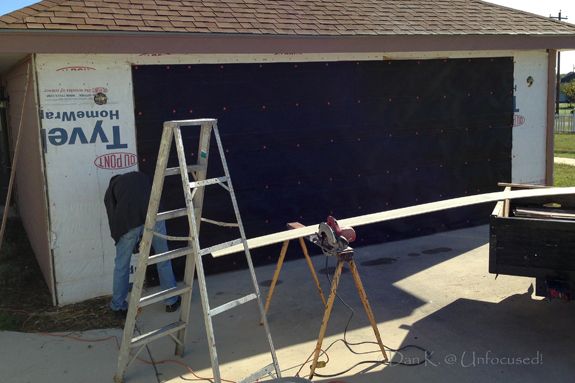 Removed the few bits of old siding surrounding the new wall.
The new siding is put in place.
And now, the side door along with casings is removed.
And, a new window went in its place!
The following pictures is looking out into the former garage from the kitchen, left to right. If you will notice, the automatic garage door opener system, the railings, and all its accessories were removed.
And now, I will leave you hanging until the next post! Ha!