My weekend was wonderful. I so badly needed to get away for a bit. We went to Galveston Island and stayed in a hotel that Dan booked earlier in the week. We walked along the Seawall earlier Saturday. It was supposed to be a warmer (70 degrees); but, the wind made it feel like it was freezing. It was just my luck to have forgotten my jacket. However, I was so happy to be walking along the beach that I pretty much ignored the cold biting wind.

I had taken off my sneakers and socks and just walked along the shore relishing the feel of sand under my feet. Eventually, I noticed areas where tiny fragments of shells and beachy stuff accumulate along the edge of where the water comes up and recedes.

I dipped my toes into the water only to quickly withdraw because it was freezing. However, I just had to take a look to see if I can find a shark tooth. I've been finding sharks teeth since I was a little kid. But, I haven't found any for years and years, most likely since hurricane Alicia (or the tropical storm Allison) because the hurricanes along with humans pretty much destroyed what used to be a diverse ecological system. I've read several years ago that Galveston is trying to change all that and restore what used to be.

Anyway, I bravely stood in the shallow water with feet gradually going numb scanning the debris of shells and whatnot brought in from the tides. My Dan refused to even dip one itty bitty toe in the water – a very wise man. He must have thought I was nuts. The water came in a rush a couple of times soaking the tops of my rolled up jeans. But, I didn't care because I was happy just being there on the beach.

After a few moments, much to my surprise and exhilaration, I found a…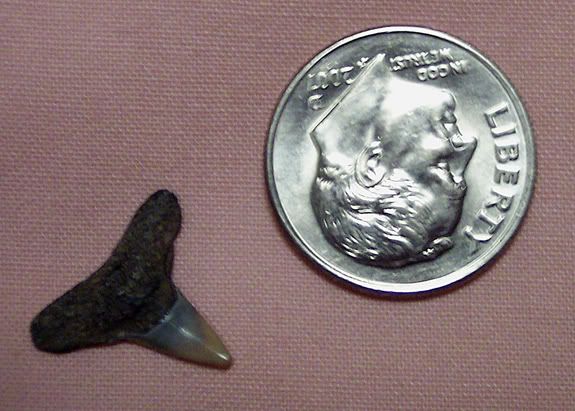 shark tooth! I was thrilled to pieces because it was the first I have found for eons. I think Dan was amazed and thrilled for me. I couldn't keep from bubbling over from happiness for awhile. Dan kept it safely for me in the little watch pocket of his jeans.

Once we decided we had enough of walking along the Seawall, we decided to head on to the State Park and explore awhile. I was saddened to see the changes there due to IKE. According to the Ranger at the "headquarters", IKE lifted the big concrete walkway and shoved it into the old nice headquarters they had. The waves then took apart what was left and washed the rest away.

They now only have a small headquarters and are still rebuilding the park itself. The one change I like is that we can now camp somewhat near the shore. Both Dan and I agreed that it'd be fun to take time and camp there someday.

We purchased a park's pass, which is valid for a year and at any state park. We might as well get one considering we're planning to go to Garner early August. When I opened the door to the truck after we parked in the day use area, I immediately spied a penny on the ground. I exclaimed to Dan that "God must be smiling down on us". First, I found a shark's tooth and then, a penny.

We then walked along the beach for awhile. My mind flooded with memories of the days long passed. I eventually braved the cold waters again to look for sharks' teeth. I was absolutely thrilled to find…




five more sharks teeth! They were somewhat smaller than the first one I found; but still, it was awesome. Dan found a beautiful decent sized shell that was undamaged. I was thrilled with that find too.

We then headed back to the hotel and crashed for the rest of the day. Since we were tired and really didn't want to go anywhere, we decided to splurge and have dinner in the hotel's restaurant. It wasn't great food; but, it sure beat going back out.

I was so tired from worrying about and being with Mother for weeks and the day was so complete and relaxing. I just crashed early. I was asleep by 8:30pm according to Dan. I didn't get up until almost 8:00am the next morning. I did wake up a few times in the night, which is normal for me. But, I slept deep, which is what I needed so badly.




We relaxed a bit Sunday morning and surveyed the ocean from the balcony of our room. We then went to Kroger for some milk and a bottle of water. We then decided to go to Moody Gardens. However, the Rainforest portion was closed – they're in the middle of remodeling.

In a way, I was glad because I didn't want to be spending any more money. I told Dan that I thought I would like to go on the Bolivar Ferry and explore the other side for a bit. So, we rode that ferry and I just loved every minute of being on it. We then, drove down a ways down the road looking at all the houses and wondering if there was any public access to the beach. We explored a place called "Surfside" and thought to ourselves that it'd be fun to rent one of these houses for a couple of weeks.

We then decided to head back and try accessing the beach another day. After riding the ferry back to Galveston, we decided to call it a day and head back "home". We did drop by to see Mother for a few. She looked tired but well.

It was an awesome weekend – just what I needed.