This is currently on my design wall -- the finished quilt top from the
Layer Cake Quilt Along.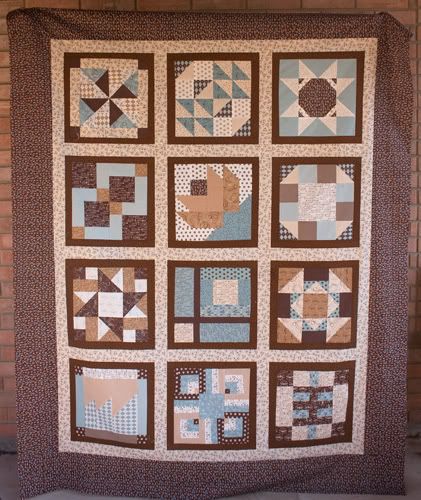 I made Dan hold this while I snapped several pictures. His arms got tired. Poor man. Thank you for all your help!
I still think the sashing is a little busy; but, the border fabric calmed it down somewhat. I think my binding choice will further complete the project. This quilt top is currently back up on my design wall.
I will be starting the backing soon now that I am feeling more like myself. It was a hard few days struggling with health issues. For the first time this morning, I feel like doing things again. Hurray for that! I will be starting the design process for the backing to use up some leftover fabrics. I can hardly wait to get started! It should not take too long to complete because I have one Pure fabric that I will primarily use. I just want to add some of my favorite fabrics within the backing. Doing the backing has always been my favorite part as it is purely mine and it makes the quilt purely one of a kind.