Mother is having both good and bad days. Both Wednesday (Feb. 10th) and Thursday were bad days for her. However, she did show improvement. She walked more each day.

Friday was a better day for her. The physical therapists were wise enough to bring the walker and have her workout within the bedroom. Before, she would refuse to use the walker due to her dizziness – I think she was honestly afraid she would fall. She is also a very private person. On this day, she used the walker for the first time and did pretty good. The most horrid part of the physical therapy was making her sit in a wheelchair for about 1 ½ hours – she was in constant pain. But, I honestly think she did well overall. And, she showed a little improvement every single day.

Monday was bad for her in general. In spite of her pain and dizziness, I think she did well in PT. I think she is getting stronger. She is now trying to get up under her own power. Dizziness is still a major issue. If she continues to have this problem, I fear she will not be able to return home simply because she doesn't handle it well.

The Rehab place was okay. I'm not impressed with the care; but, the physical therapists are awesome and very patient with her. And, there are animals present here. Residents can have them with approval. There are several animals that seem to belong to the Rehab facility. An old lady goes around on her scooter every morning to take care of the cats – there is an enclosed courtyard where she would let them out and feed them. She also takes care of the plants some evenings.

I took the time to snap a few pictures of them with my camera phone. They're not great pictures; but, they show the various animals present at the rehab.




This is the first cat I met at the Rehab. For some odd reason, the coloring is off in this picture. He's an orange kitty; but, not that orange. It's one tubby cat and has a limp. It seems to belong to the facility. I never did figure out what the cat's name is – it's simply "tubby" to me. :-) This one hangs around at the opposite end of the hall in a TV/meeting/waiting room and is often found on a nice blanket in an empty bedroom.




This fish is in a HUGE tank in the same area the orange kitty can be found. It is one big fish and the mouth looks like it has lips. *shudders* There is a smaller version of this fish, two huge algae eaters, and one other fish in this tank.




This cat is missing an eye and also seems to belong to the facility. She hangs out in a slightly different area from "Tubby" and can often be found sleeping on a pillow in another empty bedroom. She was once called "one-eyed Jack" until they discovered she was female. Her name is Marie and is awfully sweet. She often appears to be longing for something which tugs at my heartstrings.




This is Boots. She stays in the opposite end of the facility and has a bed in the main lobby. She is beautiful and chubby. She is also very friendly.




This cat actually belongs to a resident and is extremely shy. I was lucky enough to snap this picture of her. She will let you pet her; but, you have to get down to her level (squat) and let her come to you. She is also odd eyed – one yellow and one blue eye – and a beauty in my opinion. She slowly and cautiously follows her owner every time she leaves the room – a very loyal kitty.




This is a Chinchilla that hangs out in the activity room. There are two Chinchillas, four doves, and a couple of parakeets in there.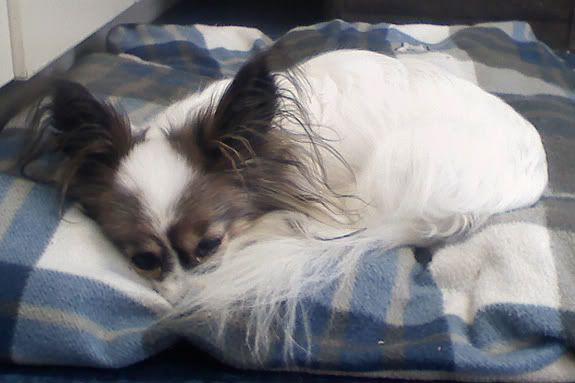 This cutest little dog also hangs out in the activity room. It has the freedom to wander around if it is so inclined to do so. I think most of these dogs (breed) are of a happy hyper nature. This one is not. It's the calmest and most depressed dog I ever seen – tail is often low and almost dragging the ground. So sad and breaks my heart. But, if you pay attention to it, it'll wag its tail a little and the ears will perk up just a tad.

That is all the pictures I manage to snap. There are more fish tanks and I believe canaries. Or, are they finches? I don't know my birds. :-) These birds are inside several wonderful glass enclosures. Boots will sit in front of the one in the main lobby and watch them. I bet she would like to get one.